August 28, 2022 - 9:50pm
Kevin Cummings wins six of 12 at Batavia Downs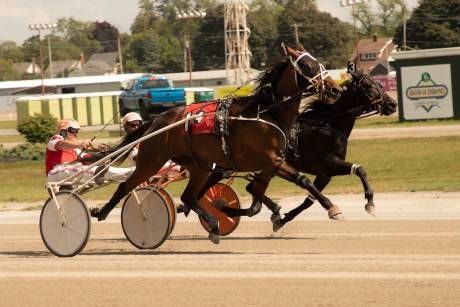 Batavia Downs leading driver Kevin Cummings continued his torrid pace on Sunday (Aug. 28) after his Grand Slam performance at the track on Saturday night. Cummings drove six more winners of the 12 races held, giving him a total of 11 wins in the last 22 races in which he drove. 
Cummings biggest win of the day came with Jumpininthejailhouse, who won the co-featured $14,000 Open II trot in fairly easy fashion. 
Jumpininthejailhouse went right to the front and reached the quarter in :28.4 as All About Thechase (Mike Caprio) and Batting Stats (Keith Kash Jr.) followed closely behind. With positions unchanged from that point, Jumpininthejailhouse then went :59.2 to the half and 1:28.3 to three-quarters and extended his lead to 2-½ length coming off the last turn. The race was over at the point as Cummings had Jumpininthejailhouse wrapped up by 2-¼ lengths in 1:57.4, which tied his season's best clocking. 
Jumpininthejailhouse ($4.20) is owned by Mike Torcello and was trainer Sammy Smith's second win of the afternoon. 
Cummings completed his six pack with wins behind Faithful Desire (1:55.2, $2.90), Anurka (1:57, $6.10), Bacardi (1:57, $3.90), Parkhill Horton (1:58, $6.30) and Way To Go Fabio (1:55.3, $6.30).
So far this meet, Kevin Cummings has 45 wins in only 156 starts and sits ahead of Jim Morrill Jr. (39) in the top spot for dash supremacy.   
The one race Cummings didn't win was the $15,000 Open I Handicap trot, where Saratoga regular Oh So Pine shipped in off a disappointing start at Plainridge Park and got back on track in a gate-to-wire win. 
Larry Stalbaum flew off the wings with Oh So Pine and opened up a three-length lead at the :29.2 quarter. With Lunar Credit (Jim McNeight III) snug in the pocket, Oh So Pine continued to set a steady tempo to the half in :59.2 and three-quarters in 1:28.3. At the top of the stretch Lunar Credit and Sanchez Rocks (Drew Monti) were both within a length of the leader as they were trotting to the wire, but Oh So Pine was the toughest of them all and won by one-half length in 1:57.4. 
The Stalbaum-owned and trained Oh So Pine ($6.20) got his third win of the year and raised his cash total to $64,199 in 2022. 
Live racing resumes at Batavia Downs on Wednesday (Aug. 31) at 6:00 p.m. and there will be a carryover of $1,502 in the Jackpot Super Hi-5 in race 12. Free full past performance race programs for all live race days can be downloaded by visiting the track's website at bataviadownsgaming.com and clicking the "Live Racing" tab.
Photo courtesy of Wendy J. Lowery