July 31, 2022 - 11:36pm
Keystone Apache takes second straight Batavia Open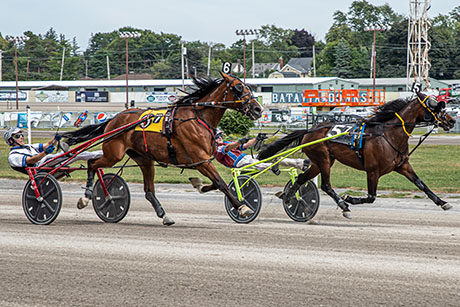 Since shipping in from Kentucky, Keystone Apache has been formidable competition for the western New York regulars and he flexed his muscle for the second week in a row winning the $15,000 Open I Handicap trotting feature at Batavia Downs on Sunday afternoon (July 31).
Jim Morrill Jr. left sharply with Keystone Apache and settled on the lead. After they posted a conservative :59.1 half, Dewey Arnold (Kevin Cummings) came first-over and tried to advance in the breeze. Morrill picked up the tempo and the :28.1 third quarter temporarily thwarted Dewey Arnold's advance. But Cummings regrouped his charge around the last turn and made another rush for the front in the homestretch. Dewey Arnold tried hard, but Keystone Apache would not relent and hung on to win by a neck at the light in 1:56.3. 
On the strength of his sixth victory of the year, Keystone Apache ($5.00) boosted his earnings to $85,434 for owners Vogel & Wags Nags Stable and Team Rice Racing. Maria Rice trains the winner.  
Earlier in the undercard $14,000 Open II Handicap trot, Sanchez Rocks (Drew Monti) got away fourth while All About Thechase (Mike Caprio) cut fractions of :29.2 and 1:00.4 to the half. Monti was out and moving with Sanchez Rocks at that point and made his way to third by the top of the stretch. From there he caught All About Thechase and held off a charge by Frank's Watching (Ray Fisher Jr.) to win by ¼ length in 2:00.2.
Sanchez Rocks ($17.40) scored his 20th career win for owner Marie Houghtaling and trainer by Ron Houghtaling. 
Monti ended the day with a driving triple, as did Kyle Cummings, while 12 different trainers claimed single wins during the afternoon. 
Live racing resumes at Batavia Downs on Wednesday (Aug. 3) with post time at 6:00 p.m. Free full past performance race programs for all live race days can be downloaded by visiting the track's website at bataviadownsgaming.com and clicking the "Live Racing" tab.
Photos courtesy of Wendy J Lowery