September 17, 2022 - 2:56pm
Morrill wins five, sweeps Batavia Downs features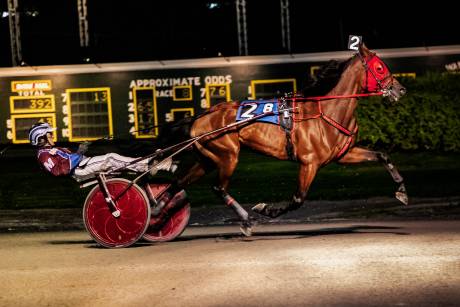 Jim Morrill Jr. was on fire Friday night (Sept.16) at Batavia Downs, winning five out of the 10 races on the card including both feature races.
In the $15,000 Open I Handicap trot, Morrill left with Credit List and took no prisoners in the process. He parked Frank's Watching (Ray FIsher Jr.) who eventually ducked in second and Jumpinthejailhouse (Kevin Cummings) who could not find a seat and was destined for a long evening. Credit List went through quarters of :28.2 and :57.1 while Jumpinthejailhouse drafted in the breeze. As they motored up the backstretch, Jumpinthejailhouse was fading and Golden Kronos (Drew Monti) was winging three-deep around him on his advance towards the leader. Golden Kronos got to within one length of Credit List but that was it as Morrill shook him loose down the lane and won by two lengths in 1:57. 
It was the fifth win of the year for Credit List ($4.60) who is owned by Room4040 LLC Stables and trained by Kevin Reynolds Jr. 
In the $14,000 Open II Handicap, Morrill also left with Night Flyer K from his pylon position start and led at every station as well. After splits of :28.4, :57.4 and 1:27.1, Morrill asked for more and got it as Night Flyer K swelled up in the lane and kicked away by 3-¾ lengths to win in 1:56.2, which was the fastest win time ever by the mare over a half mile track and only one-fifth of a second off the Batavia Downs track record for aged trotting mares that coincidentally is co-owned by the second place finisher C R Blazin Beauty (2019), along with Chelsea's Chance (2018). 
Fresh in from Yonkers, Night Flyer K ($4.00) was victorious in her first start for her new connections Vogel & Wags Nags and Team Rice Racing. Maria Rice is the winning conditioner. 
Morrill completed his quintet conquest with Osprey Vision (1:59.1, $5.10), Joey Pro (1:58.1, $2.10) and Always A Force (1:54.2, $4.40). Four of Morrill's five wins came in grand slam fashion in races five, six, seven and eight. 
Morrill is currently in second place for dash wins at the Batavia meet and one might think that Friday's performance would bring him that much closer to the top. However the current leader is Kevin Cummings and not to be outdone by Morrill, he had four wins of his own during the card so Morrill only closed the gap by one. After Friday's action Cummings now has 65 wins and Morrill has 53.  
Live racing resumes at Batavia Downs on Saturday (Sept. 17) with post time at 6 p.m. Free full past performance race programs for all live race days can be downloaded by visiting the track's website at bataviadownsgaming.com and clicking the "Live Racing" tab.
Photo by Wendy J. Lowery