July 26, 2022 - 11:27pm
Pleaseletmeknow at Batavia Downs Wednesday for NYSS tilt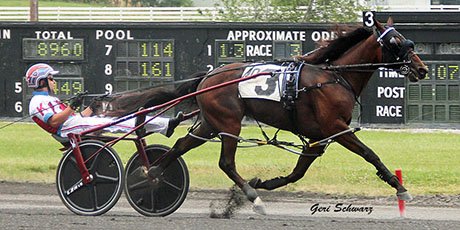 The New York Sire Stakes make their second visit to Batavia Downs on Wednesday (July 27) when 14 of the best state-bred 3-year-old pacing colts and geldings will be on hand to claim their share of $118,400 in purses that will be distributed in two $59,200 divisions.
Among the group is Pleaseletmeknow (American Ideal-I Said Please) who is not only one of the best in the state, but also in North America. 
Pleaseletmeknow is currently the third richest 3-year-old pacing male in North America sitting behind only Meadowlands Pace winner Beach Glass and North America Cup winner Pebble Beach. The bulk of his $266,927 2022 bankroll came through winning a major engagement of his own, the $261,730 Messenger Stake at Yonkers Raceway on July 1 where he pulled first-over from fourth and rallied to a three-quarter length, 1:51.3 lifetime best victory.
Pleaseletmeknow has six wins in eight starts this year with two seconds. He has won three divisions of the NYSS that includes his last outing at Monticello Raceway where he was the heavy 1-9 favorite and romped in 1:53.2 by 2-½ lengths. He is the current points (175) and earnings ($96,788) leader in his division of the state series and comes into Genesee County at the top of his game. The track record for 3-year-old pacing geldings at Batavia Downs is 1:52.2 and that is certainly not out of reach here.
Trainer Travis Alexander has regular driver Matt Kakaley up and they will start from post seven for this contest.
Looking to stand in his way are JD and Forrest Blu who both come in looking very sharp as well.
JD (So Surreal-Park N Orchard) was the 2-year-old NYSS champion in 2021 and has not missed the board in four NYSS outings this year with two thirds, one second and a win in his last start at Monticello in 1:54.3. That was his second consecutive victory as he also won the week before that in an Excel A race at Goshen Historic on July 3 in an all-time track record-breaking performance of 1:52, that also gave him a new lifetime mark.
Western New York native Ray Schnittker trains JD and he has his regular pilot Mark MacDonald aboard and they have drawn post six. 
Forrest Blu (Roll With Joe-Lima Fairest) was a neck short of being the NYSS 2-year-old champion last year after cutting the mile himself and getting beaten by JD. This year he has had only one NYSS start before being injured and scratched out of his second. After a month off he qualified back very aggressively at the Downs at Mohegan Sun Pocono where he cut the mile in 1:53 flat, last half in :55.2 and last quarter in :27.4. Off that performance it appears he is ready to roll. 
Tyler Buter will again drive for trainer John Butenschoen from the inside post two.
The other division features Bounty Hunter (Huntsville-Stonebridge Sundae) who comes in a neck and a nose short of three straight wins.
After going winless in 2021, Bounty Hunter already has two victories this year. And in his last three starts that were all in NYSS action, he was second by a neck in Buffalo, second by a nose in Saratoga and was a winner at Vernon Downs in a lifetime best 1:52.2 where he beat JD. After he was given a one month summer break, Bounty Hunter qualified back and finished second at Harrah's Philly in 1:54, last half in :56.1 and last quarter in :27.4.  
Jordan Stratton makes the trip to Batavia to drive Bounty Hunter for trainer Robert Cleary who has drawn post two.
Twin B Deluxe (American Ideal-JK Isn'tshelovely) has five wins and eight board hits in 10 starts coming in but only one is in NYSS action. That came at Saratoga on June 12 when he won in a lifetime-best 1:53. The gelding has shown much versatility by both leaving and racing off a helmet and with starting from mid-pack in here, that will be a big advantage for him.
Jason Bartlett drives for trainer Andrew Harris and has post four.
Stretch The Line (Huntsville-Jessalilmixup) has yet to win in 2022 but it's not because he doesn't know how. Last year he won five times and earlier this year it appears he was hampered with a breaking problem. But in his last four starts he has minded his manners we'll and finished second once - race timed in 1:52.1 - and third three straight times since. If he keeps improving that first "W" is within reach here.
Marcus Miller will steer for Erv Miller from post five.
The two NYSS events will go as race four and seven. There are also two $15,000 Excel "A" series races that are in races five and eight. Post time for the first race on Wednesday is 6 p.m.
Photos by Geri Schwarz