Image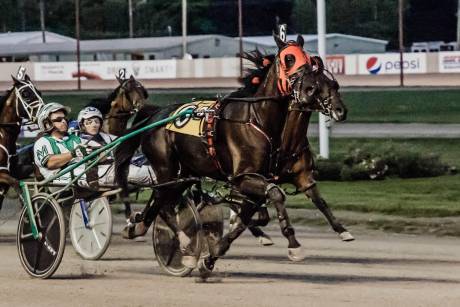 Beaten only a nose last week after winning three in a row, Saulsbrook Olympia got back to her winning ways after she parlayed a lot of early movement into a late stretch score in the $15,000 Open I Handicap pace for fillies and mares at Batavia downs on Wednesday night (Sept. 7). 
Dontustopbelievn N (Jim Morrill Jr.) grabbed the front and made fellow leavers Demeter N (Larry Stalbaum) and Dashintothebeach N (Luke Hanners) work hard to take it from her. Demeter N cleared at the :28 quarter and Dashintothebeach N supplanted that one at the top of the stretch, heading to the half. And just as the field had finally achieved single file, Tres Chic Bluechip (Kevin Cummings) pulled first-over from fifth and brought Saulsbrook Olympia (Dave McNeight III) with her to push the issue even further. 
Dashintothebeach N continued to lead up the backstretch until she hit three-quarters where Tres Chic Bluechip drew alongside, but that was just part of the evolving story. Saulsbrook Olympia who had been drafting one out and two back in the breeze was now winging it three-wide halfway into the final turn. By the time they hit the straight, Tres Chic Bluechip had overtaken Dashintothebeach N, but then Saulsbrook Olympia overtook Tres Chic Bluechip and pulled away to 1-½ length victory in 1:53.4. 
It was the fourth win in the last five starts and eighth win overall this year for Saulsbrook Olympia ($9.40) who is owned by William Mcneil and Edward Gorc and trained by Jeniffer Giuliani. 
McNeight III had a driving double on Wednesday. 
There were also two $11,000 upper-level condition races for distaff participants and the winning pair went nearly identical miles. 
In the first So Admirable (Jim Morrill Jr.) started from post one and was never headed. After cutting quarters of :28.1, :57.1 and 1:25.3 while extending her lead to three lengths by the top of the stretch, she closed out the deal in 1:54.2, equalling her lifetime mark. 
So Admirable ($3.50) is owned by Joe Amico Jr. and trained by Shawn McDonough. 
Then in the second, Winning Words (Kevin Cummings) also left from pylon position and went gate to wire in handy fashion. After splits of :28, :57.1 and 1:26, Cummings let Winning Words pace home on top by 1-¾ in 1:54.3.
Winning Words ($4.50) is owned by Steven Goehle and Norene Mego. Angelo Nappo trains the winner. 
Cummings ended the night with three wins while Nappo wrapped it up with two. 
Other horsemen with doubles on Wednesday were driver Dan Yetman and trainer Dave Russo. 
Live racing resumes at Batavia Downs on Saturday (Sept. 10) with post time at 6 p.m. Free full past performance race programs for all live race days can be downloaded by visiting the track's website at bataviadownsgaming.com and clicking the "Live Racing" tab.
Photo by Wendy J. Lowery