Image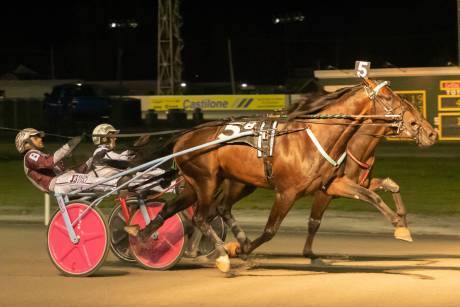 The New York Sire Stakes for 3-year-old trotting colts, geldings and fillies were held at Batavia Downs on Friday evening (Aug. 26) with a total of $232,700 in purses available for the 17 state-bred participants. There were two divisions for fillies and a lone male division that had a purse of $119,800 and that was a heavyweight fight. 
Slay (Chapter Seven-Swinging Royalty) got a perfect trip from driver Joe Bongiorno and ran down Molotov Cocktail in deep stretch to claim a narrow victory.
World At War Deo (Wally Hennessy) took over the lead from Chapheart (Trond Smedshammer) at the :28 quarter and got a short breather to the half before the action really picked up. Molotov Cocktail (Brian Sears) was the first to pull and Slay was happy to get his cover as they moved around turn three on the second circuit.  
They headed up the backside in two rows with World At War Deo still in front with Molotov Cocktail right by his side as they motored to three-quarters. Around the last turn, Molotov Cocktail took the lead in the middle of the track and Slay tipped off his cover going three deep, and the pair hooked up from there. The two trotters were at full speed down the stretch, matching strides all the way. Molotov Cocktail and Slay were inseparable under strong urging from their drivers until just before the line where Slay got a neck in front and won in 1:55.4. 
It was the second straight win and fourth of the year for Slay ($4.60) who now has $262,897 made in 2022 for Crawford Farms Racing and James A. Crawford. Tony Alagna trains the colt bred by Jonas Schlabach.
Then there were the girls. 
The first field of four fillies vied for $55,900 and Cash Fusion (Chapter Seven-Swing Anna Cash) delivered as expected. 
Tyler Buter took Cash Fusion off the gate while In A Tiny Way (Jordan Stratton) settled in the lead. But that last only an eighth of a mile before Buter rushed the front and took command. The group remained single-file until the five-eighths when La Vie En Blanc (Joe Bongiorno) pulled first up and leveled off in second outside of In A Tiny Way. Around the last turn Cash Infusion started to swell up and opened up 1-½ lengths by the top of the stretch. Down the lane Buter sat chilly as Cash Infusion coasted home on top by 2-¼ lengths in a new lifetime mark of 1:55.3. 
It was the third win of the year for Cash Infusion ($4.40) who has now earned $132,723 this year for owners  William Donovan, Purnell & Libby, Joe Sbrocco and the George Ducharme Stable. George Ducharme also trains the winner that was bred by Jonas Schlabach. 
The second group of five lined up for $57,000 Valentina Blu (Chapter Seven-Corazon Blue Chip) was very strong in victory. 
Seven On The Rocks (John Stark Jr.) went quickly for the lead but the spot was short-lived as Joe Bongiorno took over with Valentina Blu before the quarter that went :29.1. There were no changes in order until the backstretch when Je Suis Si Belle (Andy Miller) charged the leader with She's A Scorcher (Jordan Stratton) following close behind. The top four trotted in two rows around the last turn with only three lengths between them until they straightened out. In the stretch, Valentina Blu dug in under a drive and opened up by 1-½ lengths at the light and won in 1:56.1.
It was the second win in a row and third of the year for Valentina Blu and pushed her 2022 earnings to $122,125. Crawford Farms owns the Tony Alagna trained filly that was bred by Spring Haven Farm and Doug Millard. Due to multiple stable entries, Valentina Blu raced for purse only. 
Live racing resumes at Batavia Downs on Saturday (Aug. 27) at  6:00 p.m. Free full past performance race programs for all live race days can be downloaded by visiting the track's website at bataviadownsgaming.com and clicking the "Live Racing" tab. 
Photo courtesy of Wendy J. Lowery