August 28, 2022 - 9:47pm
Surfer Beach hangs 1:52.3 on Batavia feature field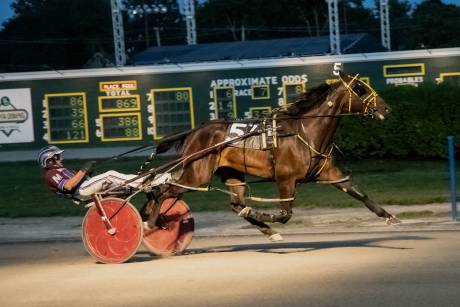 Surfer Beach took a while to get the lead but when he did he finished the job this week, winning the $15,000 Winners-Over I Handicap at Batavia Downs on Saturday night (Aug. 27).
Last week's feature winner Stratosphere (Drew Monti) was first to the front and held that position until the :27.3 quarter when Surfer Beach (Jim Morrill Jr.) went to the head of the class. With little resistance over the next half mile, Surfer Beach hit the half in :56.2 and three-quarters in 1:24.4, where a luke-warn outside challenge from Blue Spanx (Keith Kash Jr.) failed. As the pacers turned for home, Stratosphere popped the pocket and tried to catch Surfer Beach like he did just one week ago, but Surfer Beach had more in reserve this week and paced home in :27.4 to win by 2-¼ lengths in 1:52.3.
It was the second win in the last three starts and fourth overall this year for Surfer Beach ($3.20) who is owned by Vogel & Wags Nags and Team Rice Racing. Maria Rice trains the winner. 
Morrill ended the day with three wins and Rice scored two of her own. 
Then in the $14,000 Winners-Over II Handicap, Out On Bail tripped out to his seventh win of the year. 
For horses left but Out On Bail (Jim McNieght III) was first to the front, until Daylight Rush (Dave McNieght III) decided to vacate the pocket in lieu of the lead at the quarter. The race then proceeded to the half in :57.4 when Long Train Running (Drew Monti) came first up and pacing towards Daylight Rush. Positions remained unchanged as they moved to three-quarters where Long Train Running started to fade which gave Out On Bail the room he needed to tip into the stretch. McNeight did pull Out On Bail at the head of the lane, passed Daylight Rush shortly after and then held off all late challenges to win by 1-¼ length in 1:54.3. 
Out On Bail is owned by Mike Torcello and is trained by Sammy Smith, who had two winners on Saturday.  
Kevin Cummings had a big night scoring a driving grand slam that included a natural hat trick in races three, four and five. He won with China Dream (1:56, $6.70), Best Brew (1:58.1, $21.00), Gallery Opening (1:56.4, $18.40) and Beachboydesire (1:55.3, $51.00). 
Live racing resumes at Batavia Downs on Sunday (Aug. 28) at 1:15 p.m. and there will be a carryover of $1,270 in the Jackpot Super Hi-5 in race 12. Free full past performance race programs for all live race days can be downloaded by visiting the track's website at bataviadownsgaming.com and clicking the "Live Racing" tab. 
Photo courtesy of Wendy J. Lowery