June 29, 2015 - 7:28pm
Another little free library pops up -- on Montclair Avenue, Batavia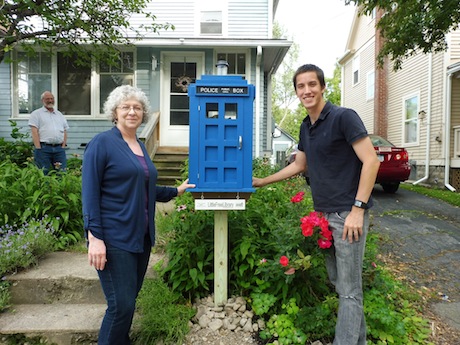 Connie Boyd and Dave Bateman, her son-in-law, show off a new little free library they setup at 16 Montclair Ave. in Batavia last week.
Bateman built Boyd the box for a holiday gift. One of her favorite TV shows is "Doctor Who" so he customized the box to resemble a tardis, a police box the doctor travels around in. The tardis even comes with a working light on top.
Boyd wanted to have a little free library of her own after seeing a box on Washington Avenue. She loves the concept of sharing her favorite novels with neighbors. The purpose of a little free library is to have people take a book from the box and leave one in return.
"Not everyone is able to get to the library so I wanted to make books accessible to everyone and encourage reading in my community," Boyd said.
There are about 20 adult books in the box. Boyd said her neighbors have already been adding and borrowing from the collection. She plans on adding books for children soon.