July 16, 2015 - 3:46pm
Transformation of p.w. minor attracts new employees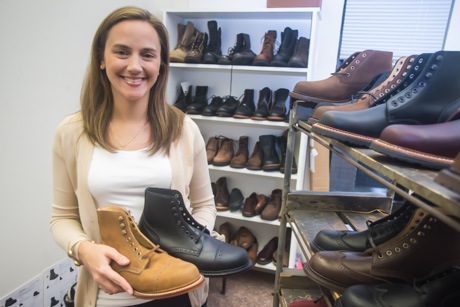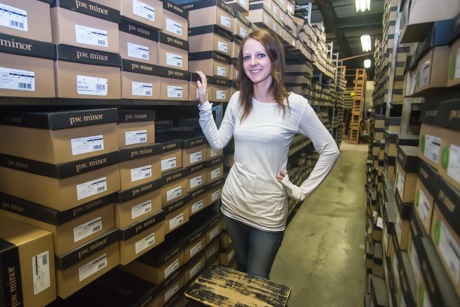 There are big changes afoot at p.w. minor.
Owners Andrew Young and Pete Zeliff are working to quickly transform and grow the once nearly moribund Batavia-based shoemaker they rescued last year. 
As a part of the transformation,Young and Zeliff came up with a new visionary statement to "dream big, get shit done and know how to have fun." They believe the three goals capture their approach to business and what they need to achieve to be successful. 
Before Young and Zeliff purchased p.w. minor, the company's main goal was to stay open. Now the goals are growth and expansion. 
"We came in with a positive attitude, bold ideas and a huge vision," Young said. "It's a different way of doing things and employees really like it."
To fulfill their vision, Young and Zeliff plan on bringing back production from China and creating more jobs. In April, the company received a $900,000 state-backed aid package to help move jobs from China back to Batavia with the goal of creating at least 100 jobs locally. They have already expanded the local staff by 25 new employees.
Two recent hires bring big-time experience to the rejuvenated company. One is a Batavia native who was eager to return home but continue her career in fashion product development; the other has made the West Coast to East Coast migration because she's excited by the opportunity and fresh energy at the new p.w. minor. Both fit into the shift of culture Young and Zeliff are trying to inoculate into the 148-year-old shoe company.
Kristine McCarthy, a 1999 graduate of Batavia High School, arrived at p.w. minor last month with 12 years experience in accessories with two top name fashion companies in New York City.
McCarthy moved to NYC after graduating from the fashion program at Buffalo State College in 2003; she landed a job with a catalog company. In addition to working for the catalog company, McCarthy has worked in the accessories department for Ann Taylor in material sourcing and Coach in product development. McCarthy and her husband, Brian, who also grew up Batavia, enjoyed living in the city but decided to return to their hometown to raise their son, Jack, and be closer to family.
She began searching for jobs in Batavia last winter and came across all the media coverage about the changes at p.w. minor. She reached out to Zeliff and Young via e-mail and expressed her interest in working for the company. Young, intrigued by her career experience and local background, offered her a position. Hiring a product developer was also a big hole they needed to fill.
During her first month on the job, McCarthy has started working with the purchasing team to source new materials and the design team to execute product samples. She is currently overseeing the production of eight new shoe designs for next Spring. Her goal is to make the products both comfortable and fashionable.
One of the aspects of her job at p.w. minor that is different from her other jobs is the ability to watch the shoe designs come to life at the factory.
"It's different being at the factory," McCarthy said. "This job is a lot more hands-on and I'm gaining more knowledge because of it. I want to learn as much as I can about the manufacturing of a shoe and every detail that goes into it."
She is eager to learn from Young and Zeliff and be a part of the company's growth.
"It's such an exciting thing to be a part of," McCarthy said. "They are both intelligent and there is so much I can learn from them. They are great leaders and have great energy."
Erika Williamson, a pattern maker for a Nike development center in Beaverton, Ore., decided to accept a job at p.w. minor and relocate to Batavia to obtain experience working in a factory. 
"If I wanted to work in a factory for Nike, I would have needed to relocate to China or Sri Lanka," Williamson said. "To me p.w. minor was a great opportunity to not have to relocate overseas."
Williamson never heard of p.w. minor until she randomly received a call from a recruiter a month and a half ago about an opening for a pattern engineer. After learning more about the company and having three phone interviews, she was flown out to Batavia and offered a job on the spot.
She has been designing shoes since she was 12 years old and has 10 years worth of professional experience in fashion. She earned a degree in Arts and Apparel Sciences from the Fashion Institute of Design and Merchandising in Los Angeles. After college, she worked on the fashion segment for KUSI news in San Diego and then moved back to Oregon to do various contract jobs in the apparel industry. 
At Nike she worked on the production floor. She spent two years sewing shoes in production and three years in footwear development. Although she liked designing sports performance shoes at Nike, her passion lies within fashion and developing more high-end style shoes.
Williamson has already started working at p.w. minor drawing and drafting patterns for new shoe designs. One of her goals is to design a comfortable high heel for women who are always on the go. She plans to design a 2- to 3-inch leather heel that is dressy but doesn't leave behind painful blisters after a long day at work.
"I really like working in a factory," Williamson said. "Coming from working on the production floor at Nike, I have found people are more down to earth here. I enjoy working on the equipment and interacting with people. It's a very hands-on job which I love."
Williamson also plans to use her skill in commercialization and full product testing she gained at Nike to get the factory running efficiently after all the production is brought back from China. When she first started working at the development center at Nike, the business unit was small and only three employees worked there. However, in three years the unit grew and became the most sought after group in the company, which led to the creation of 30 jobs. From her experience, she predicts p.w. minor will significantly expand in the next few years.
"With what p.w. minor wants to accomplish and the resources they have, I think within the next three to five years we are going to be seeing a huge growth within the company," Williamson said.
In the near future, Young will be hiring more new employees. 
"We also have some heavy growth plans that will require more hiring," Young said.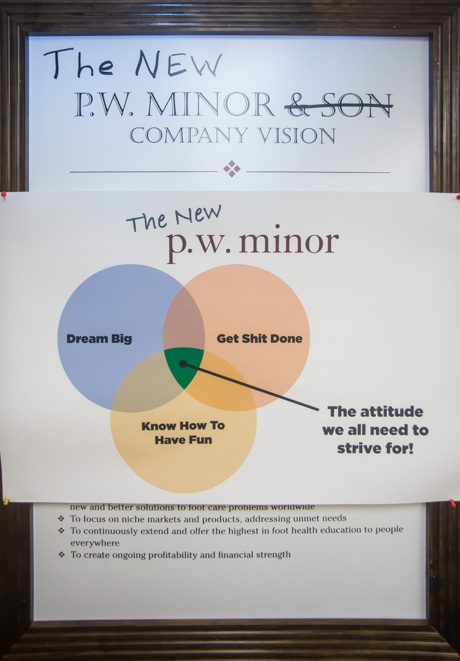 July 16, 2015 - 7:08pm
#3
Well, Julie. From p.w. minor's own website, the closest (non-medical retail) store is Good Feets at 1625 WALDEN AVE, CHEEKTOWAGA, NY 14225 (29.7 mi).
Not much "walkability" there, but, then again, by the time you hiked back home, your shoes would be quite "broken in".