May 21, 2018 - 8:00am
Adam Miller Toy and Bicycle celebrates a century in business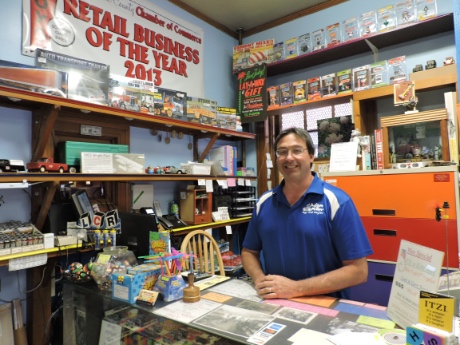 John Roche, who owns Adam Miller Toy and Bicycle with his wife, Cathy, stands behind the counter in his store at 8 Center St., Batavia, which is celebrating 100 years in business.
Carrying on a 100-year tradition of serving the public and providing quality customer service is not an easy task, but one which John Roche looks forward to every day.
Roche and his wife Cathy, of Corfu, are owners of Adam Miller Toy and Bicycle, which is celebrating 100 years in business this year.
"I have the pleasure of going to work and playing all day," said Roche, who bought the business in 2002.
The store was started by Walter Davis in 1918 as a wheel goods store. In 1929, he built the building at 8 Center St., selling baby buggies, doll carriages, tricycles, bikes and pedal cars.
When Adam Miller purchased the business in 1946, he changed the name to Adam Miller Wheel Goods. In the mid 1950s, Miller erected a neon sign out front, which is still in use today. He continued to increase his line of merchandise, adding on to the building in the 1960s to accommodate a full-service repair shop and expanding to toys and hobbies.
Miller retired in 1970, turning the business over to his children, son Gary, and daughter and son-in-law Joyce and Buzz Masse. Gary and Buzz were both schoolteachers, and after school they were mechanics in the bike shop.
Adam Miller died in 2000 at the age of 90.
As for Roche, he has years of experience in the bicycle business. He started fixing bikes for his friends at age 13 in his parent's garage. After graduation, he went to work for 13 years at a bicycle shop in Lancaster, before going into the wholesale bicycle business for a company in Cheektowaga.
When his company decided to move to New Jersey, Roche didn't want to go with them. He got a job at Potter Lumber, but in the back of his mind, his retirement plan was to buy a bicycle shop.
While doing business with the Adam Miller store, Roche became friends with Miller's children. When the Masses were ready to retire, after running the business for 25 years, they called Roche.
 "Joyce and Gary wanted someone who would keep their family's tradition as a bike shop," Roche said. "They called me and I took the opportunity."
The bicycle business has gone crazy, with all different styles, Roche said. He has one model which is a three-wheel version, capable of being used as a hunting vehicle.
"It's big enough you could put a deer on the back to drag it out of the woods," Roche said. 
The store continues to be considered "the neatest store in town," Roche said.
The bicycle repair shop is a big part of the business, with Michael Mugler as shop manager. He has been with Roche since day one, having worked with him for 20 years in the bicycle warehouse.
The Roche's have three sons, all of whom have their own careers, but also an interest in bikes. They all worked in the store growing up. One has a bicycle collection on display in the store, and their middle son Shawn likes to tinker with bikes, and builds his own. They help out during special occasions, such as Christmas in the City.
Roche's plans for the future include moving into online sales, while continuing to offer the favorite toys and games from past decades. 
Customers have been bringing in old toys and games, which Roche is displaying in the store windows. He invites anyone with any old toy to bring it in. 
The store will celebrate the 100th anniversary with two parties, a customer appreciation day on June 30 and another special event at Christmas time.