March 15, 2022 - 3:20pm
Alabama Fire honors its own, installs new officers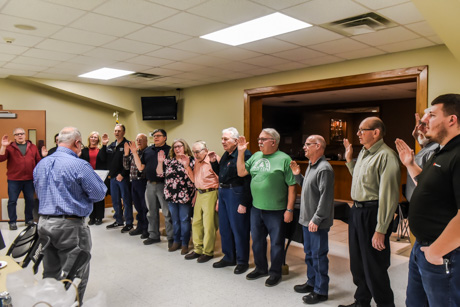 For the first time in two years, the Alabama Volunteer Fire Company held an award and installation banquet.
The fire company was not able to have their annual banquet in 2020 or 2021 due to Covid, and decided to scale down the event this year due to continued concerns, said president Wendy Allen-Thompson.
The banquet took place on March 8 on the evening of the regular monthly meeting, with dinner catered by Penna's, presentation of awards, and installation of officers.
Allen-Thompson was emcee for the evening.
First on the agenda was remembering four members who died during 2020. They are Edwin "Ed" Schoenthal, Leo Snyder, Henry Brunea, and Gary Tripp.
Rick Brunea, deputy chief, presented the first award of the evening – the EMS Award to the entire Alabama Rescue Squad, to honor all members who responded to emergencies during the past years.
The Service Award was presented by vice president Joe Uhrinek to Pat Buczek, a longtime and active member who always steps up in an emergency.
"He is dependable, a capable driver and pump operator," Uhrinek said. "You can always count on him."
Two past Firefighters of the Year, Brian and Todd Thompson, chose to name the entire fire company as "Firefighters of the Year" this year.
"They all had to step up more than other years, and there was not one who stepped up above the others," the Thompsons said. "We are all a team in everything we do."
Allen-Thompson's President Award was new this year and recognized a new member of at least one year and not more than five. She chose Joshua Miller as the recipient of the Rising Star Award.
He has attended all his firefighting classes and is up-to-date with his training, Allen-Thompson said.
Allen-Thompson then presented a pin to members for years of service, in addition to a special gift for members with active service.
New members introduced were Brianna Bronson-Smith, Mark Smith, and Jacob Cook.
Three members were recognized for 10 years of service from 2019 to 2020. They are Ryan Thompson, Diane Fry and Mike Bielski.
Recognized for 2021 for one year were Bob Kehlenbeck, Joshua Mullen, and Gary R. Patnode; five years, Joe Uhrinek; 10 years,  Michelle Patnode and Kristopher Thompson; 20 years, Gloria Abrams; 35 years, Jeff Sage; 40 years, Ron Bauer; and 70 years, Gordon Baubie and Tony Mudrzynski.
Baubie, who now lives in Penn Yan, did not attend the banquet, but Rob Crossen offered to take him a fire department blanket as a souvenir for his years of service.
Proclamations were presented from Assemblyman Stephen Hawley to Todd Thompson. Tony Mudrzynski received proclamations from Hawley and Senator Mary Lou Rath.
New officers were installed by Kevin Fisher, deputy supervisor/councilman of the town of Alabama. They are president, Wendy-Allen Thompson; vice president, Joe Uhrinek; treasurer, Tony Mudrzynski; secretary, Leah Thompson; financial secretary, Rob Crossen; Bell jar secretary, Clayton Fry; and board of directors, Terry Thompson, Hank Mudrzynski, Rick Brunea, Gary Patnode Sr. and Alison Thompson.
Fire Chief is Gary Patnode Jr. Appointed officers are deputy fire chief, Rick Brunea; assistant fire chiefs, Pat Buczek and Sid Eick;  captain, Ryan Thompson; lieutenant, Todd Thompson; EMS captain, Terry Thompson; and fire police captain, Hank Mudrzynski.
Photos by Howard Owens.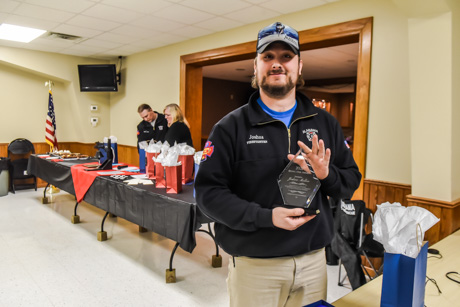 Joshua Miller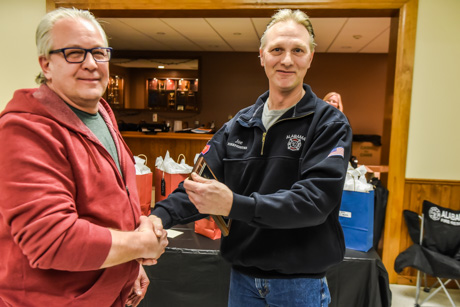 Pat Buczek receives service award from Joe Uhrinek.