August 1, 2018 - 4:09pm
Attention breastfeeding moms -- 'Global Big Latch On' is Friday in Cary Hall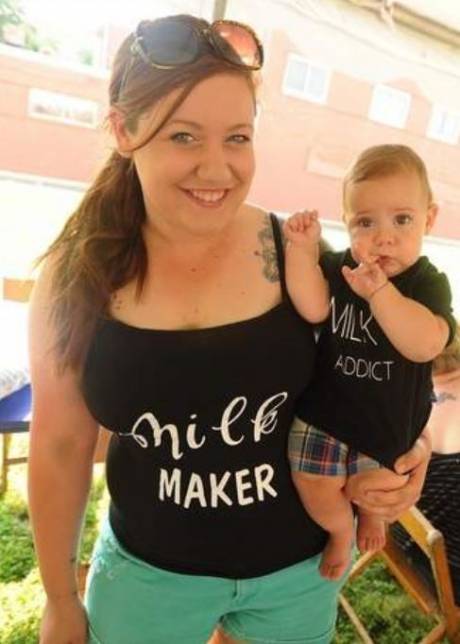 This mom is one of several dozen who participated in last year's Global Big Latch On at UMMC. This year's event is scheduled Friday at UMMC's Cary Hall, 211 E. Main St., Batavia. Photo by Virginia Kropf.
United Memorial Medical Center will participate in the Global Big Latch On event Friday at Cary Hall, 211 E. Main St., Batavia.
Global Big Latch On is an international organization working to support and normalize breastfeeding, while encouraging a community network of support among breastfeeding families, said Stacey Pastuszynski, marketing adviser at UMMC.
This is the fourth year UMMC has participated in this global event, in which as many as 143 family members have attended locally.
"We average forty breastfeeding moms, while the rest are friends and family members who attend for support," Pastuszynski said. "While we are hoping to better that this year, it is not so much about numbers as it is about support for breastfeeding mothers and promoting the benefits of breastfeeding."
Mom- and baby-friendly local businesses and organizations will be present Friday to provide resources, including Richmond Memorial Library, Oak Orchard Health WIC, Project Stork, UMMC Healthy Living and Baby Café, YWCA, Genesee County Health Department and City of Batavia Fire Department with their car seat safety check.
The event is free and breastfeeding moms can preregister at www.biglatchon.org or by calling 344-5331.
Registration begins at 9:30 a.m. At 10:30 a.m., there will be an official count of latched babies and pumps, which will be submitted to the Global Big Latch On organization and added to the number of other women breastfeeding simultaneously throughout the world.
This year's goal worldwide is to break the current Global Big Latch On record of 17,992 children breastfeeding at 758 locations in 23 countries, according to Pastuszynski.
Pastuszynski said UMMC's Healthy Living team is passionate about their programs which support families and breastfeeding mothers.
Their Baby Café is a free breastfeeding support group which meets from 11 a.m. to 1 p.m. every Tuesday, with a certified lactation consultant on site.
Healthy Living also offers infant feeding and childbirth classes; a Medicaid Obstetrical and Maternal Services Program; and Family and Friends CPR and Safety classes.