December 8, 2018 - 4:23pm
Batavia's Frank Gioia maintains a lifelong passion for running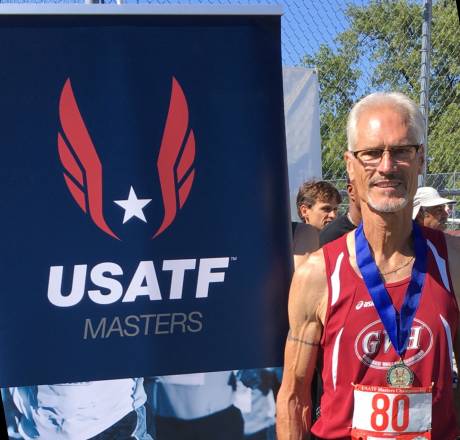 Frank Gioia, of Batavia, was photographed in Buffalo in September when he won first place in his age group in the USA Track and Field Championships. 
Frank Gioia has been serious about running since he was young. He's 65 now.
A son of Babe and Dolly Gioia, Frank was born and grew up in Batavia, where he ran all through high school, he said. He was the first one from Batavia to qualify for cross country in the state championships, he said. 
He attended Genesee Community College for two years, and for about five years took a break from running to play softball.
"Back then, everybody was playing softball," Gioia said. "There were ball teams then all over town."
As a young man, he had married the former Pattie Walker and had three children, during which time his running took a back seat. He went to work as a welding foreman for the railroad, retiring from CSX Transportation.
Now, as a senior citizen, with time to devote to his love of running and the desire to keep fit, he is chalking up some wins on the USA Track and Field circuit.
In 2016, Gioia placed eighth in a USA National 5K Championship road race in Massachusetts. This past August, he was third our of 15 in the nation in a 5K road race in Atlanta, with a time of 21 minutes 6 seconds.
In his most recent victory, he finished first among 14 in the nation in September in the USA Track and Field Championships in Buffalo with a time of 21 minutes 36 seconds.
His first-place finish was 30 seconds longer because it was in the grass in Delaware Park, Gioia said, while the Atlanta race was on pavement. All races were in age groups. 
He has also traveled to races in San Francisco and Virginia.
He thinks what attracted him to running was because you don't have to be a member of a team to run. 
"I always enjoyed running, and I could just go run any time I wanted to," Gioia said. "And when you do good, that makes it all the more pleasurable."
Although all of his children and three grandchildren are serious about sports, none shared his passion for running.
During good weather, he runs nearly every day, but during the winter he runs on the treadmill at the YWCA four days a week.
He is going to take a break for three or four weeks while he waits for next year's schedule for the national races to come out.
"I have accomplished everything I really wanted to do, and I'm happy now just maintaining what I'm doing," Gioia said.
Gioia just learned he has been named The Buffalo News "Runner of the Year" in the 65 to 69 age group. Out of the seven races in the series, he won the first six and placed second in the last race.
He also recalled several other honors to his credit, including running the 1983 Philadelphia Distance Classic half marathon in one hour and nine minutes. That placed him 55 out of more than 3,000 runners.
In 1984, he ran the Skylon International Marathon in two hours and 29 minutes, placing seventh out of 1,153 runners.
And, in 1985 and 1986, he won gold medals at the New York Empire State Games in the 10K on the track.
Photo below: In August, Frank Gioia, of Batavia, placed third in the nation in the Masters 5K USA Track and Field Championships in Atlanta.