August 30, 2018 - 4:35pm
Couple in Darien looking for Kickstarter help in business startup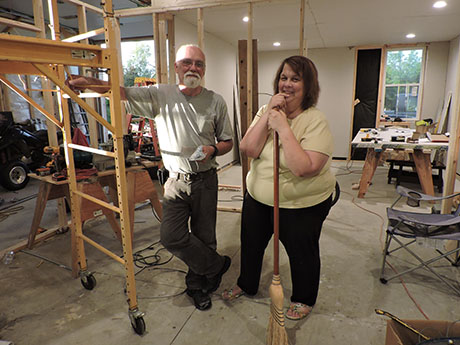 Editor's Note Aug. 31, 4:45 p.m.: The Kickstarter link was broken and was replaced with a new, correct one.
Charlie and Penny Marble of County Line Road have been offered what they call "the opportunity of a lifetime."
Penny is a lifelong quilter, who has won awards for her quilting patterns. Until recently, they traveled the Eastern United States attending quilt shows. She ships her patterns all over the United States and five countries.
Charlie is a sewing machine repair technician for a company in Depew, whose owner has decided to close the business, and has offered it to the Marbles.
In order to take on the new business, the Marbles must complete a studio they had built in 2016 by Amish friends. While the Amish put up the shell, it was the Marble's intention to finish the inside themselves.
Then Penny got sick last year and was hospitalized. At first doctors thought it was just exhaustion, but after many tests, she was diagnosed with System Exertion Intolerance Disorder, a serious form of chronic fatigue.
It meant they must put their dreams of a new studio on hold.
"It broke my heart," Penny said.
Now the couple has to complete enough of the inside of the studio in order to take on the sewing machine repair business. To do this, they need to raise $5,000 for materials and have launched a Kickstarter campaign.
"The sewing machine repair business comes with some large contracts, and we would be foolish not to take it over," Penny said. "We will hire one of the technicians from the business, as well as Charlie."
The Marbles will also be taking over classes on embroidery, sewing and quilting, which have been offered at the Depew shop. They will also become an authorized Brother (sewing machine) Service Center.
"It is a priority now to finish our building," Penny said.
Pledges to their Kickstarter campaign will help them finish the interior of the studio, purchase tables, chairs, and electronics for the classroom and install a kitchenette so visitors can have a cup of coffee.
Readers can help the Marbles achieve their dream by logging on to: www.kickstarter.com/projects/pmqdthestitchery/the-studio-2 to make a pledge.
Pledges start at only $5 and Penny is offering rewards for donations, which include: having the donor's name permanently written on a 2 x 4 or drywall; discounts on future orders; a personalized mug rug; free classes at the studio; and, for a $50 donation, a 1 foot by 1 foot barn quilt or an award ribbon pillow. Pledges of $100 or more will entitle the donor to: $100 off any long-arm quilting project; or two weeks of maker space rental, in which an artisan may set up a booth with their wares and use the classroom for workshops.
Other awards for larger donations include a personalized baby quilt, a T-shirt/ memory quilt, and larger barn quilts.
The Marbles already have instructors lined up for various classes. Charlie and the second sewing machine technician come with years of experience and are qualified to service and repair any make, model or age sewing machine.
"This is going to be a fun place once it's up and running," Penny said.
Their target date to open is Dec. 1.
Photo: Charlie and Penny Marble, of Darien, stand amid construction in a shop they are trying to complete in order to take on the business from a Depew sewing machine repair shop which is closing. The couple has launched a Kickstarter campaign in an effort to raise $5,000 by Oct. 3. Photo by Virginia Kropf.