August 3, 2018 - 11:38am
Tomorrow's Jenny Kuzma 5K in Bergen could be last for event in its third decade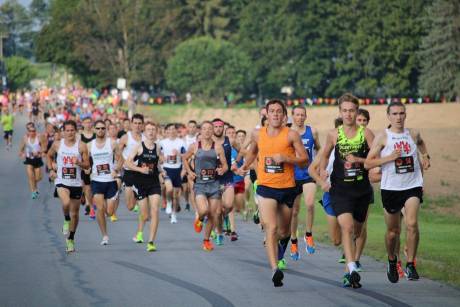 As time winds down for the 2018 Jenny Kuzma 5K race, organizers are fearful this could be the last year for the race, which has earned the reputation as one of the most competitive races in Western and Central New York.
Started more than 25 years ago as the Bergen Swamp Race, it was renamed the Jenny Kuzma Memorial 5K race to honor the Byron-Bergen eighth-grader who died of leukemia in June 1990 at the age of 13.
Eric Boyce has chaired the race for the last 12 years, assisted by Joe Chimino, a senior lineman with the Village of Bergen until his retirement in May.
Boyce, however, has moved to Canandaigua, and since Chimino's retirement, he doesn't have access to the village equipment needed to set up for the race and handle traffic control. Because of these factors, both men have decided this will be their last year chairing the event.
Both Boyce and Chimino are hoping someone else will come forward to chair and organize the race, which has drawn some pretty impressive participants.
Boyce, who used to run the race and won it several times, became involved in organizing it when Paul Thomas, his former cross-country coach at Byron-Bergen High School, was chairman. Boyce was eventually instrumental in raising the race to the status of a USA Track and Field qualifying race 10 years ago.
"If you look at race statistics in Western New York, this one sticks out," Boyce said. "Besides promoting healthy lifestyles and community involvement, we've had some pretty neat highlights along the way. Several people got engaged at the finish line; the second fastest 5K run by a woman was at this race in 2014, and a man from Kenya set a course record here after riding on a bus all night from Nyack to get here."
The race begins at 8:30 a.m. Saturday on Parkview Drive in Hickory Park.
Early registration ended Wednesday, but racers can still register for $30 from up until 6:15 p.m. today at Medved Running and Walking Outfitters, 3400 Monroe Ave., Rochester; or they can register the day of the race up until 8:30 a.m. for $35.
Proceeds from the race fund a scholarship for an eighth-grader at Byron-Bergen School and Camp Good Days.
Boyce said he doesn't know what's going to happen in the future, but he hopes someone will take over.
"We've been contacted by several groups who are interested, but most don't realize how much is involved behind the scenes," he said. "This event is good for the village and the community."
If someone is willing to take it over, Boyce said he might possibly be able to help.
Top photo: Hundreds of racers hit the street in last year's Jenny Kuzma 5K race in Bergen. This could be the last year for the race if new organizers don't step up.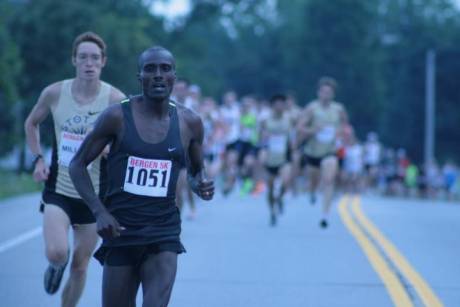 The annual Jenny Kuzma 5K race in Bergen has earned a reputation as one of the most competitive races in all of Western and Central New York. Here, a runner from Kenya sets the course record after riding all night on a bus from Nyack to reach Bergen in a race several years ago.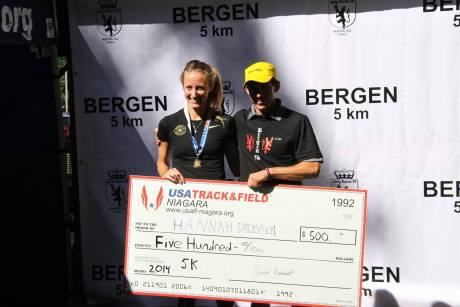 Hannah Davidson, of Saratoga Springs, accepts her check in 2014 after posting the second fastest time by a woman in a 5K race in the Rochester area at the Jenny Kuzma 5K race.