March 15, 2022 - 3:25pm
Tony Mudrzynski has volunteered with Alabama Fire and isn't ready to quit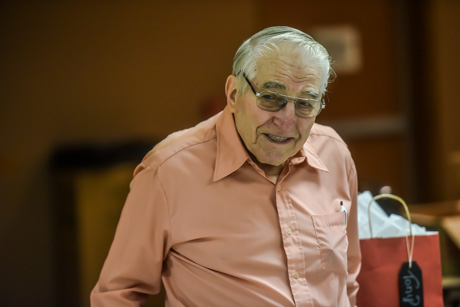 Tony Mudrzynski was recently recognized by the Alabama Volunteer Fire Company for achieving an incredible milestone.
At their installation and awards banquet on March 8, Mudrzynski was honored for 70 years of active membership in the fire company.
Another former Alabama resident, Gordon Baubie, has also been a member for 70 years, but now lives in Penn Yan and was unable to attend.
Mudrzynski was born in 1934 on Fisher Road in Oakfield, one of seven children, all of whom were born at home. His family moved to a farm on Lockport Road when he was 2 months old.
When Mudrzynski's father was diagnosed with lung cancer, he put the farm up for sale.
"I crawled into the haymow and cried for an hour," he said. "Luckily, the farm didn't sell.
His father died when Mudrzynski was 16, and at the end of his sophomore year, he quit school to take care of his mother and siblings.
"I loved farming, and that's what I wanted to do," he said.
When his mother died at 95, she had never been in a hospital, Mudrzynski said.
Tony and his brother Hank eventually bought the farm, and later two others down the road.
No one in Tony's family had been a member of the fire company, but he decided it was something he wanted to do to help other people.
"And you never know when you might need a firefighter," he said.
Tony joined the Alabama Volunteer Fire Company on Feb. 11,  1952, just two days before his 18th birthday. The fire department was just five years old. Hank would join several years later, just two weeks after he turned 18, and has also served various roles, including 13 years as chief.
Tony said he was offered the job as chief, but turned it down.
"Somebody had to be at home to milk the cows," he said. "I have held every office but chief."
He has been treasurer for at least 15 years. He continues in that role, goes to Buffalo regularly to get bingo supplies, volunteers every week to get things ready for bingo, counts the money and makes the deposit.
Tony can rattle off every piece of equipment the fire company ever purchased, its model, and what they paid for it. Their first new truck was bought in 1950 at a cost of $10,000. Their last piece, a pumper/tanker bought in 2018, cost $434,000.
Tony recalls the first carnival the fire company had on schoolhouse grounds in Alabama Center.
"We made 150 gallons of chowder and sold it all," he said. "We had a fund drive at that carnival to build the two-bay building across the road. Hank and I tore the old down. That was around 1954.
In the early days, there were four of five phones in homes in the districts where fire calls would ring into. Then those people would notify the other firefighters.
Tony said he used to respond to nearly every call. His first major fire was Kelsey's barn on Macomber Road.
Tony was actively involved with the fire company when they acquired the land to build the hall on Judge Road in South Alabama. He said Guy and Ken Simons donated two acres of land and the fire company purchased another 4.2 acres. The hall was built in 1956. Carnivals were held there until the mid-1980s when they served fish fries on Friday night.
When chicken barbecues became popular, Tony looked into having one for the fire company. Their first one was in June 1956, and they have had them every year since, except during the pandemic. Last year was take-out only, he said.
He has also worked on their annual auctions the first Saturday in October, dating back to the first one in 1956, which netted $2,000. The second year it netted $800, and since profits have soared from $6,000 to $8,000.
"We don't have to canvas the neighborhood anymore for donation," Tony said. "People just bring us their stuff."
When the recreation hall was built in 1967, the fire company went full steam with bingo.
Tony married Helen Fry in 1967. She had two children. She died 15 years ago.
Tony's wife, mother, and sister Josephine were all active members of the Ladies Auxiliary, which sadly has disbanded due to lack of membership.
In 1992, Tony ran for town supervisor and ended up serving for 22 years.
Tony doesn't respond to active calls anymore, but he is still articulate in his bookwork.
"My balance is not that good anymore, so I don't belong out there fighting fires," he said.
But he will still continue his work as treasurer and continue checking out the fire hall a couple of times a week to make sure everything is alright.
"The people I've met and the friendships I've made through the fire service and being town supervisor can't be replaced by anything," Tony said. "I wouldn't give them up for the world, and I have no regrets about quitting school."
Photos by Howard Owens