Image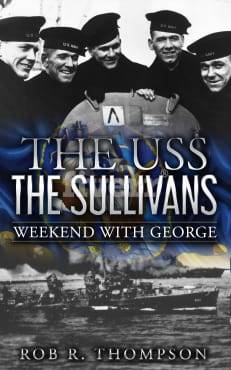 Rob R. Thompson, of Attica, has written 15 books, four of which were bestsellers, but his favorite so far is the story of the Sullivan brothers who were all killed on the USS Juneau during World War II.
Thompson will be at Le Roy's Moose Lodge today (Saturday) to sign copies of "The USS The Sullivans" until 3 p.m. during the Le Roy Winterfest.
His book is not about the bombs, guns and steel which made up the ship, but rather it combines emotion, history and paranormal events surrounding the ship.
While researching for his book, Thompson spent three nights on the ship anchored in Buffalo's Naval Park.
Thompson covers the history of the cruiser and details the life of Eugene Straub, originally of Darien, who was also lost aboard the Juneau.
During his research, Thompson located Straub's daughter, now 75 and living in Utica.
The book is available online, as well as at the book signing.