The VA Center in Batavia was host to a 50th anniversary commemoration of the Vietnam War.
    
Image
The commemoration is being held in honor of Vietnam Veterans and their families including those held as prisoners of war or listed missing in action.
Image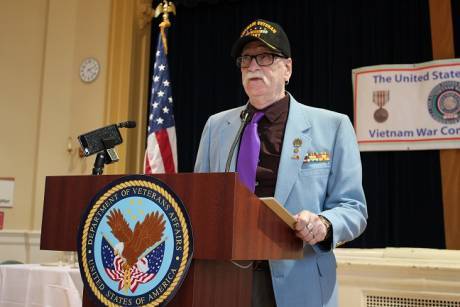 Guest Speaker Mr. Vincent Schollard served two tours of duty in Vietnam as a Navy Corpsman from 1966 to 1968.  
In a stirring speech he described what those who served in Vietnam had to come home to, "There was a cardboard sign in the window of a house sometimes saying "Welcome home Vet John or Mike" and the other people were still outside the airports with thier picket signs calling us baby killers, and what war criminals we were, and waiting with bags of dog crap, but we persevered and it's because of the Vietnam Veteran that the VA system got a better understanding of what PTSD really is..."
Schollard went onto speak of the exclusive brotherhood that he joined called the Vietnam Vets and how they have persevered not only through the horrors of War but in making many improvements to the VA system.
Image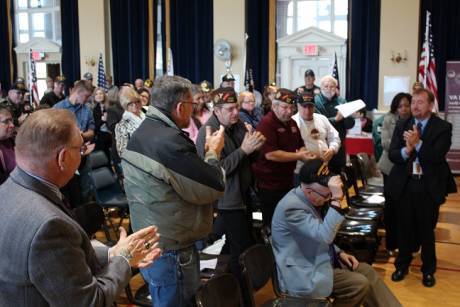 Schollard received a standing ovation as he choked up delivering the last words of his speech, "We are a strong group of men and women and I'm deeply proud to be a part of that, and I thank you for your service, welcome home my brothers."  
St. Joe's Brass Ensemble of Batavia played a service medley tribute as members of various military divisions arose for their tune to be be honored.
Frank Panepento and Tom Cecere led a haunting rendition of Silver Taps to close out the ceremony.
VA representatives were on hand to field questions about the VA system and many of the opportunities that a number of Veteran's are underutilizing or completely unaware of.  For more information on VA services visit www.va.gov