October 23, 2014 - 11:16am
SUV and tractor-trailer collide at Oak and Richmond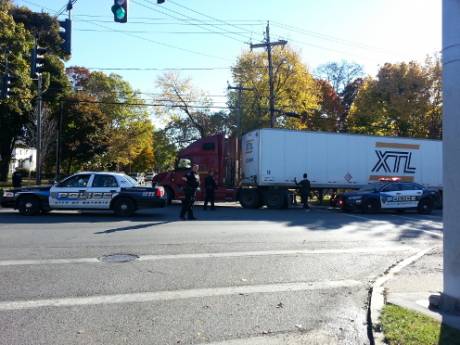 A two-vehicle accident involving a tractor-trailer and an SUV occurred at Oak Street and Richmond Avenue about 10:30 this morning.
The tractor-trailer was traveling north on Oak Street and the SUV was facing south at the intersection and turning left onto Richmond Avenue when it was struck by the tractor-trailer. The SUV sustained damage on the passenger side.
According to the Batavia Police Department, no one was injured and the driver of  the SUV is being issued a ticket for failure to yield.
UPDATE 5 p.m., Friday: Further investigation by Batavia PD uncovered a different version of events. The SUV was eastbound on Richmond.  He was not issued a citation.
"We're unable, based on the information available at this time, to determine who was at fault," said Officer Kevin Defelice.