December 6, 2020 - 2:41pm
'Magical' Christmas in the 1960s: wonderment, shopping in crowded Downtown stores, eating big home-cooked meals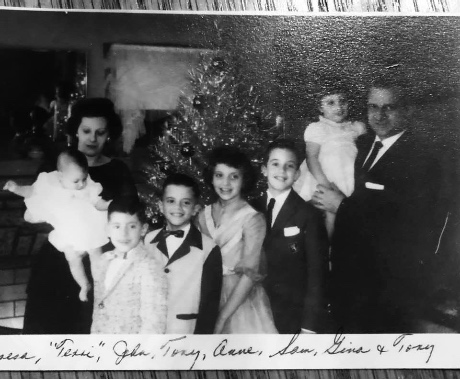 I was reminiscing, thinking back to Christmases in Downtown Batavia circa 1960.
I recall a Friday night, and Main Street was decorated with holiday cheer. People from all over Genesee County had come to the city to shop and reconnect with friends.
I had made my list for Christmas, and my first two stops were Newberry's and W.T. Grant's. Those two stores carried everything you would need -- from a picture with Santa, a hot dog at their food counter, to a new dress and plumbing supplies. The stores were crowded, and the Christmas music was coming from outside of C.L. Carr's.
The windows of the Carr's building would mesmerize young and old with their moveable musical figures. It was a much slower pace in the '60s. People working behind the counters of the various stores knew your name and would ask about your family. Genesee Hardware was on Main Street at that time and sold toys. I remember going there to see if the wedding dress for my Barbie doll was still for sale. It was!
Other stores I remember were Thomas and Dwyer and C. F. Knox, shoe stores that were run by families. A winter ritual was driving around the city with my family to see the Christmas decorations. There was always one particular house you had to see every year with the most sparkling Christmas lights.
Your next stop would have to be NY State School for the Blind to see the magical, miniature Christmas village on the school's snow-covered lawn.  
My memories take me back to my family — the Pecas — and those Christmas mornings with the opening of presents and the five-course meal prepared in the kitchen. One Christmas, our mother gave each of us a photo album she created with pictures of each of us in our album. I remember sitting in the living room with my brothers and sisters looking at our albums. We laughed at how we looked when we were young and couldn't believe that our mother of six found time to create such a timeless memory.
Another favorite memory was Christmas dinner. We would eat for what seemed like hours. Our family was so big we needed the large kitchen table and the dining room table for a holiday meal. You had, to begin with, our dad saying grace and thanking God we could all be together. The feast started with an antipasto, followed by Italian wedding soup, lasagna, and a full-course turkey dinner. Later we would have a wide variety of choices of homemade pie.  
This Christmas will be different for many. I know we will not be able to see our children and grandchildren. We will be filled with memories of Christmases past and hoping all our families and friends stay safe and healthy and are filled with beautiful memories from yesteryear.
Top photo: The Peca family dressed their best for a Christmas Card photo.
Below, two of Anne Marie Starowitz's sisters, Gina, left, and Terry.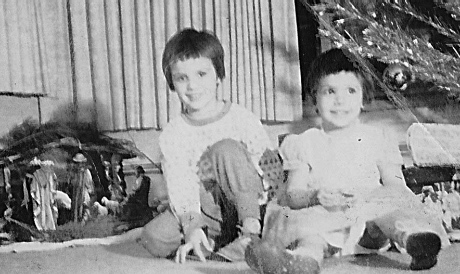 Below, Tony, Sam, Anne Marie, and their dad, with sisters Gina and Terry on his lap. (Not pictured: mom and brother Johnny.)