Image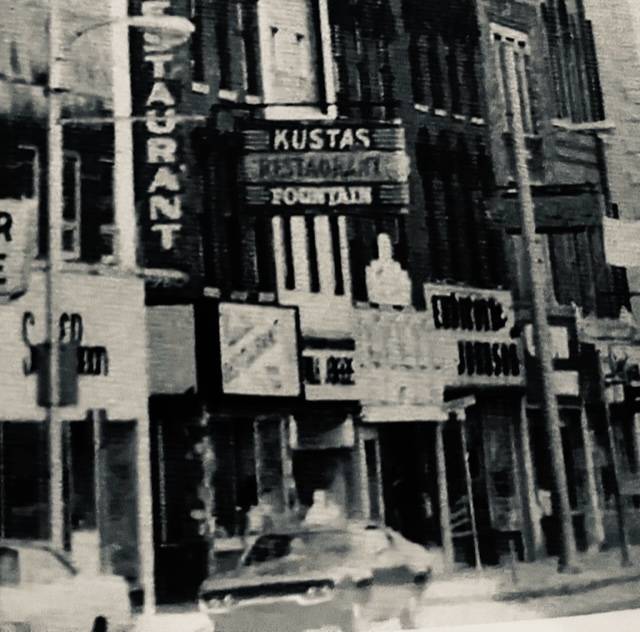 Since 2018 I have been writing nostalgic stories for The Batavian about growing up in Batavia, New York, in the 1950s and 1960s. In some of those stories, I made mention of some of the businesses that were located in what we always called "Downtown." 
Due to "urban renewal" in the 1970s, most of these establishments and their buildings no longer exist. 
Recently a reprint in The Batavian of the last chapter of Anne Marie Starowitz's book "Back In the Day" made mention of a lot of these places, and it got me thinking about my experiences in some of them. As a young boy and a teen, I had no reason to go into a hat shop, a paint store or a furrier. But I certainly patronized the two movie theaters that we had. As a teenager, I did a lot of hanging out at Kustas Kandies and, to a lesser extent, Critic's Restaurant, and I got a lot of my clothes at McAlpine-Barton Clothiers (the owners were next-door neighbors of my grandparents on North Lyon Street).
Image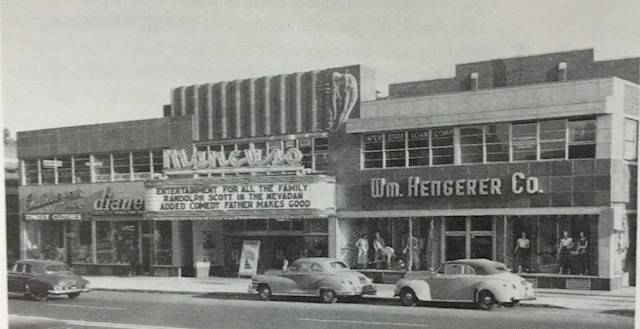 Image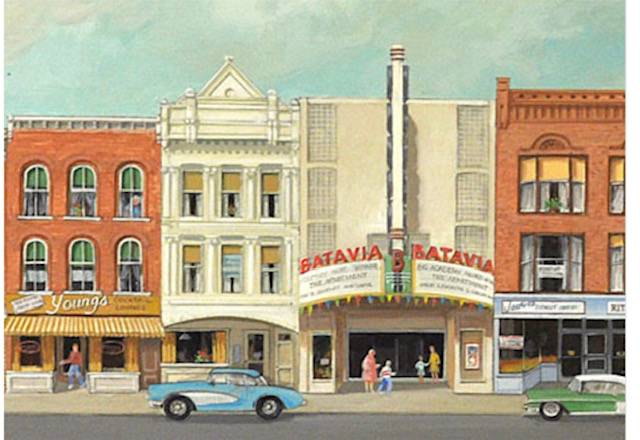 Time-Honored Theaters
Our two movie theaters were The Dipson Batavia on the northwest side of Main Street between the Post Office and State Street and The Mancuso Theater on the southeast side of Main between Center and Liberty Streets. I would say that despite the two theaters being in competition, both were well attended, depending on what movies were being shown. Prices were certainly reasonable with a lot of movies (we called it "going to the show") being $1 and even less for kids.
It's odd how memory works, but I really can't recall exact details about either theater. Mancuso's seemed to be a little fancier and, later on in the 70s split into twin theaters so they could show two movies instead of one. 
My younger brother (by 11 years) Jim's first job was as an usher at Mancuso's and he certainly has some stories to tell. I do remember a young usher at Dipson's named Lester who took his job very seriously. Unfortunately, we kids weren't very nice to him and often gave him a hard time.
I know that I must have seen the big blockbusters of that time like "Ben Hur" and "The Longest Day," but I cannot remember specifics (of course, I have watched them on TV since), like who I was with or what theater I saw them at. I do recall that most movies, especially the kid ones were preceded by cartoons. I assume we got popcorn, but I think oftentimes we brought our own candy in our pockets. We'd stop at Corrigan's or some other mom-and-pop grocery first and stock up. 
I don't remember if we bought drinks, but I'm sure they didn't cost $5 or $6 like they do now. 
My brother still works in the theater business and he will certify that way more money is made on concessions than tickets. I don't know if that was the case 50 or 60 years ago, but we didn't contribute much to the concession intake at all.
Image
I'm pretty sure that it was not the norm for 10-year-olds to go to the movies alone, but I distinctly recall being dropped off at Mancuso's in 1957 for a movie called "Heaven Knows Mr. Allison." War movies were my favorites then (I never did serve in the military, though) and that's probably what attracted me to it. It starred Robert Mitchum and Deborah Kerr as a "salty" Marine and a nun who were randomly stranded on a Pacific island during World War II. When the Japanese came and set up an outpost, the two of them had to hide out in a cave. Mr. Allison, as the Sister called him, fell in love with the nun, but of course, she told him that her life was committed to God and a relationship with the Marine could never be. Corporal Allison eventually disabled some Japanese artillery to enable an American landing on the island, and the two were rescued and went their separate ways. Deborah Kerr was nominated for an Oscar for her performance. 
Why do I so vividly recall going to this movie and not other bigger, splashier ones? That's the conundrum of memory, I guess.
One thing for sure about going to the movies back then was that if you really wanted to watch the movie, you should not sit toward the rear, Those rows were populated by teenagers who were there only to take advantage of the warm, dry theater to "make out" or "neck" (those are some funny descriptive terms aren't they? ). I was certainly no ladies' man, but I can remember coming out of some movies and having no idea what film I had even attended. I specifically recall one time when I told my parents I was at a friend's house when I was at Mancuso's with a girl instead. When I didn't come home on time, my mom called the friend's mom, and of course, I was in trouble for lying. It was surely embarrassing (and still is if I think about it) to try to explain to my mom why my lips were swollen. 
Teenagers.
Both theaters were occasionally used for music, but Batavia was certainly no usual stop on entertainers' tour agendas. Much to my delight, though, in June 1964 just before I graduated from Notre Dame, Mancuso's hosted a pretty big-time show -- my first rock and roll concert. 
Image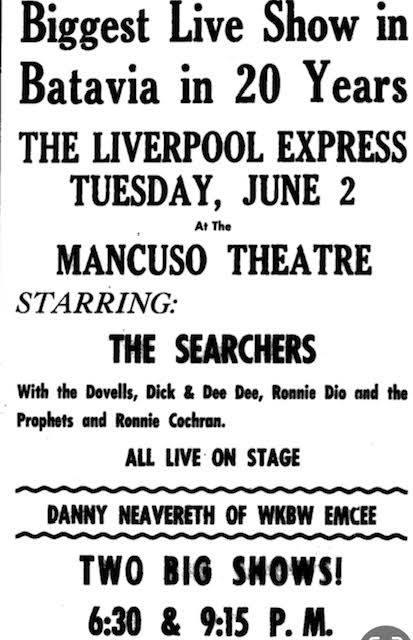 Like most teens at that time, I was all in on the "British Invasion." The Beatles, Rolling Stones, Dave Clark Five, Gerry and The Pacemakers (did Gerry have a heart condition? ) and more were all over Top 40 radio. WKBW from Buffalo was the local station of choice with DJs Joey Reynolds, Tommy Shannon, and Danny Neaverth. So when I heard that The Searchers, with their big hits "Needles and Pins and "Love Potion Number #9," were going to headline a show in our little town, I was ecstatic.
It was almost 60 years ago, so I don't remember too many details of the show. Danny Nevearth was the emcee. There were five bands on the bill and two shows at 6:30 and 9:15 ( I don't recall which one I went to) so the opening acts must have only been able to play a few songs. I can't recall anything about the first two acts: Ronnie Cochran and Ronnie Dio and the Prophets. Ronnie Dio was 21 at the time of the Mancuso show and grew up in Cortland. He later went on to be the lead singer of Black Sabbath, taking Ozzie Osborn's place. Many consider him to be the best "Heavy Metal" singer of all time.
The third band was The Dovells, a dance band from Philadelphia. Their lead singer was Len Barry who went on to later have a big hit with"1-2-3". They performed their choreographed song "Bristol Stomp," and another dance tune called "Do The Continental," which many years later showed up in the John Waters movie "Hairspray." They were followed by Dick and Dee Dee, whose popular hit was "Mountain High". The only thing I recall about them was that I was shocked to find out that Dick was the one with the high falsetto voice and Dee Dee sang the lower range.
The Searchers did not disappoint, playing their two hits I mentioned earlier along with a set of other tunes that were hard to hear over the screaming teenage Batavia girls. My first big rock and roll show started me on the road to many, many more as I went on to college and through life. Going to see live music is still my favorite thing to do. 
Thanks Mancuso's.
Image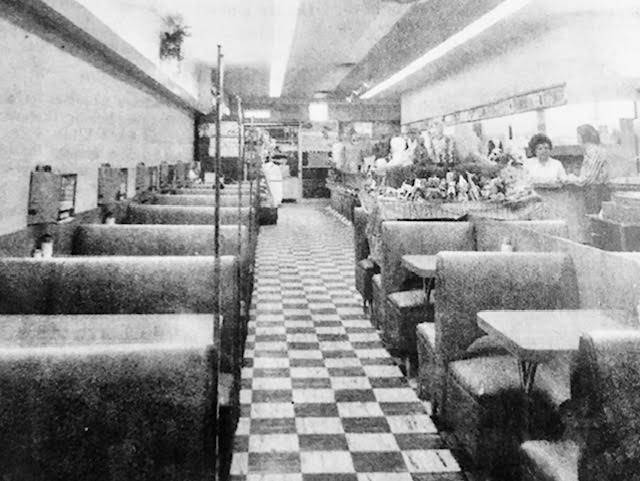 Teen Hangouts
A big venue in the lives of most teens in the '50s and '60s was the local "soda shoppe." For my friends and me (and many others of our age) it was Kustas Kandies on the north side of Main Street. Mrs. Kustas, who held down the counter and table area, was well-liked by all the kids and hired a number of them to work there, too, including a couple of my classmates, Mike Palloni and Madonna Mooney. She was pretty tolerant of teens hanging out there as long as you bought something and didn't get too rowdy. Most of my meager funds were spent on Cherry Cokes and French Fries, but if I happened to have a little extra cash, Kustas had delicious cheeseburgers in the style of McDonald's Big Mac or Carroll's Club burger. Like many restaurants of the time, there was a jukebox at every table, and we fed them coins to play all our favorite tunes. I'd bet The Rolling Stones' "Satisfaction" was #1 in the rotation. Hey, hey, hey, that's what I say.
Across Main Street and slightly to the west was Critics, formerly The Sugar Bowl. Critics was more of a pre- or post-date restaurant, though. Mr. Critic (real name Ernest Criticos who, after urban renewal, relocated his restaurant to Greece Town Mall outside Rochester) did not brook any nonsense from teens. He wanted to appeal to a more adult crowd, and if teens hung around longer than 30 or 40 minutes, especially without buying a meal, out you went. It was just a little fancier than Kustas, though, so if you wanted to impress a girl before or after a date ( a movie, let's say), you would take her there. It wasn't a soda shop, but into the 60s, another date spot was Your Host Restaurant in the East End Plaza, but not downtown. You probably needed a car to get your girl to Your Host.
Classy Clothiers
It's hard to believe, but in a small city of about 18,000 people, there were three men's clothing stores (not counting JCPenney) in downtown Batavia. There was Beardsley's, Charles Men's Shop, and McAlpine Barton's. 
I really don't recall ever buying anything at Beardsley's, and I have no idea why not. I'm pretty sure that when I was a student at St. Mary's Elementary School from first to eighth grade, we bought our school uniforms from Charles Men's Shop. For the boys, they consisted of light blue shirts, dark blue pants, and a dark blue clip-on bow tie. Probably Charles had a deal with the school. 
My mom would buy two pairs of pants for the year, and they would take a beating, so multiple sewing repairs were required. I wouldn't even want to guess how many bow ties I probably lost in 8 years. At Notre Dame High, those of us who earned them got our letter sweaters at Charles, too, again probably a deal between the school and the store. Other than those things, I don't recall frequenting that haberdashery very often.
When my grandparents, Anna and Henry (Henrik) Newhouse, moved to Batavia from Brooklyn (after emigrating from Denmark) in the 1920s, they bought a house at 25 North Lyon Street. There they raised my mother and three other children. Grampa was a tool and die maker at Doehler-Jarvis, which is why they moved here. My two uncles, Walter and Robert (who is the last family member of his generation at age 93) followed their dad's career path and became tool and die makers also. Their neighbors at 23 North Lyon were the Bartons of McAlpine – Barton Clothing store. It was originally McAlpine-Brumsted, but the Bartons bought out Brumsted and the business carried on. So, the reason why we patronized that store is because the Bartons were neighbors and friends of my mother's family.
The store was located on the south side of Main Street on the corner of Center Street (ironically, Charles Men's Shop, McAlpine's competitor for many years, is still in business and now occupies that building). LaRay Barton and his son Charlie ran the business, and LaRay's wife Eva took care of the office. My mom, Anna Newhouse Reilly, worked in the office for a number of years, too before going on to become the office manager for William Dipson of the aforementioned Dipson Theaters. Another long-time salesperson that I recall was Fred Darch.
Image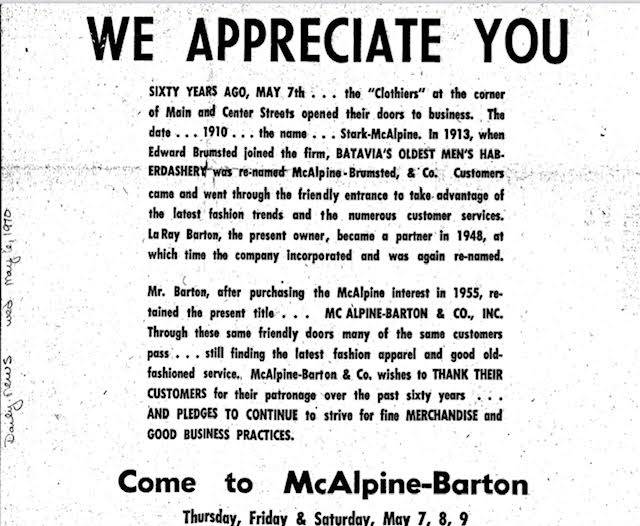 McAlpine-Barton's had two floors for clothes shopping, the main floor and the basement. The offices were on the second floor. The main floor had two parts: the main room, which was for suits, sport coats, and slacks, as they referred to dress pants. Then there was a side room for what they called "leisure wear". This would be sweaters, dressier polo shirts, and so on. The basement, where I got most of my clothes, was more for teenage or younger people's clothes like t-shirts and jeans, which they called "dungarees". It wasn't like most of the places you go to get clothes now, though, where you pretty much wait on yourself unless you ask for help. There was always a salesman with you and assisting you.
I do have fond memories of McAlpine–Barton's, mostly because all the salesmen were friendly and willing to help you find what you were looking for and ensure a good fit. (note: I honestly do not recall any female salespeople at Barton's. It was probably a combination of it being a men's store and the chauvinism of that era. Also, later on, the family opened The Pendleton Store for women's clothes, managed by Charlie, and they had all female salespeople). Of course, my brothers and I got extra good treatment at McAlpine-Barton since LaRay and Charlie knew our family.
I moved to the Rochester area after graduating from St. John Fisher College there in 1969, so I wasn't living in Batavia for the Urban Renewal, which took place in the 1970s resulting in the demolishing of most of the downtown buildings. Dipson Theater, Kustas Kandies and Critics are long gone. Mancuso Theater still stands but is now a church. Finally, as I mentioned previously, the building that housed McAlpine-Barton is now home to the still-in-business Charles Men's Shop.
From following a couple of Facebook pages devoted to remembering the Batavia of old I realize that there are a substantial number of people who lived through the tearing down of a majority of downtown buildings who are still grieving and angry about it. Their feelings are that Batavia as they knew it was ruined forever. Nonetheless, even though the population of the seat of Genesee County has declined by about 5,000 since the '50s and '60s, it is still a city, and a number of its citizens are still trying to make it a viable and valued place to live.
For those of us who grew up in Batavia, New York, back then and are still living, we have our photographs, paintings and especially our memories that can remind us of the way things used to be.
Dipson Theater Painting by Pat Burr.
All other images courtesy of Genesee County History Department.