Image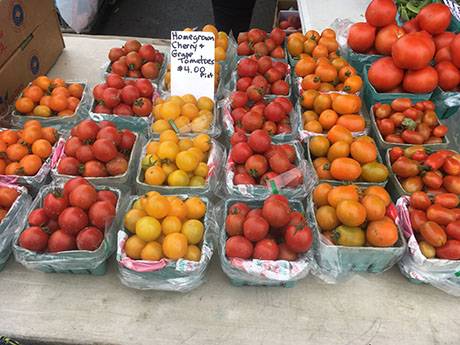 Biting into a fresh and juicy peach is a reminder that, regardless of gray skies and rain, summer is definitely upon us. This week there is a large selection of fruits and veggies that are just coming into season: field-grown tomatoes, sweet corn, eggplant, sweet and hot peppers, and plums. This is also prime time for pickling cucumbers.   Peaches are available, too, but freestone peaches (for canning, where the pit is easily removed) will be ready around Aug. 10th. 
We are all familiar with advertisements from stores announcing the "last chance" to buy something at a low price. My phone has been ringing with the same prerecorded call for the last three years, notifying me of my "last chance" to lower the interest rate on my credit card. I don't believe it. But here in New York, our time to buy fresh, local food really is limited. Nature doesn't let us grow berries in January. Now is the time to slice a red (or yellow, or purple) ripe tomato onto your salad this summer. Don't miss the opportunity. 
Last summer, our local farmers were affected by the drought. But today it's raining, again. At the Genesee Country Farmer's Market, I asked Sharon from Schwab Farms in Gasport how the rain has been affecting their crops.
"We prefer it a little drier…but everything looks beautiful," Sharon said with a smile. 
The Genesee Country Farmer's Market is located at the corner of Bank Street and Alva Place (near JCPenney) in Downtown Batavia, from 9 a.m. to 4 p.m. Tuesdays, Thursdays and Fridays. Fresh produce and baked goods are available every market day, but Friday has a larger variety of vendors and more craft and specialty items.