August 4, 2015 - 12:37pm
2015 Genesee County 4-H Master Market Showman Competition winner announced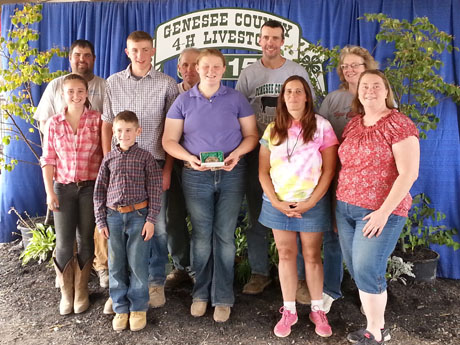 Photo from Cornell Cooperative Extension of Genesee County. From left, back row: Timothy Adams, Ed Keller, Troy Johnson, Meg Thater; middle row -- Ashley Ehrementraut, Tucker Bezon, Melissa Keller, Julie Ehrementraut, Tamie Johnson; front row -- Michael Ehrementraut.
 
 For the first time in several years, the Genesee County 4-H Youth Development Program held a Master Market Showman Competition at the Genesee County Fair.  This competition is designed for Genesee County 4-H Market Program youth who won senior showmanship or overall showmanship in either beef, goat, sheep or swine market animal shows.
To be awarded the prestigious title of 2015 Genesee County 4-H Master Market Showman, qualifying 4-H youth must demonstrate the additional knowledge and advanced showmanship skills in multiple species.  The competition was held Saturday, July 25th in the main show ring of the Genesee County Fair.
4-H Market Animal Advisory Committee Leaders worked together with 4-H Club Leaders in selecting animals to be used for the competitions; four animals were needed for each youth participating in the competition. 4-H members exhibiting those animals at the fair were asked for use of their livestock by club leaders and the master showmanship competition coordinator.
Participating in this year's competition were: Tucker Bezon (Beef Club), Ashley Ehrmentraut (Sheep Club), Michael Ehrmentraut (Goat Gang Club) and Melissa Keller (Swine Club). After showing each breed of animal (beef, goat, sheep and swine) and answering several questions asked by judges, the participant score cards were tallied.
The 2015 Genesee County 4-H Master Market Showman trophy and belt buckle was presented to Melissa Keller, of Corfu. Congratulations to Melissa and also to Tucker, Ashley and Michael, it was a very close competition! Thank you to all of the 4-H Volunteers and Club Leaders who assisted with the event and to the 4-H Youth who loaned their livestock -- without you this competition would not be possible.