February 1, 2018 - 3:40pm
4-H'ers busy making Valentines for our veterans in Batavia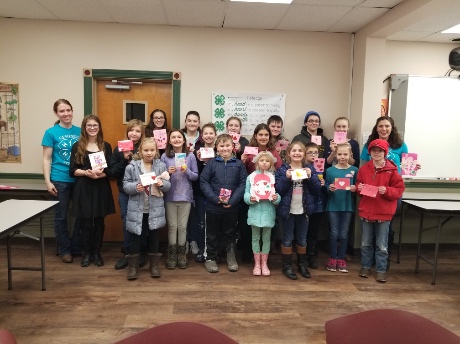 Submitted photos and press release:
The Genesee County 4-H Program hosted a community service card making event on Jan. 30.
4-H Staff Jessica Reisdorf and Brandie Waite along with 4-H Volunteer Julie Keller, helped coordinate and lead the event. They spoke to 4-H'ers on the importance of community service and volunteering and how they relate to citizenship.
More than 20 4-H'ers ages 7 to 15 volunteered their time to create over 50 beautiful and thoughtful handmade cards that will be distributed to the New York State Veterans' Home in Batavia.
The youth worked together on this project with the common goal of brightening the residents' Valentine's Day and to let them know that the community cares about them.
Genesee County 4-H members will be continuing this service project at the Batavia JOANN Fabrics store in the Valu Home Plaza on West Main Street from 11 a.m. to 2 p.m. this Saturday, Feb. 3.
To learn more about the Genesee County 4-H Youth Development Program visit our website at: http://genesee.cce.cornell.edu/4-h-youth-development