September 2, 2014 - 1:47pm
Back porch reported to be on fire on Ross Street in the city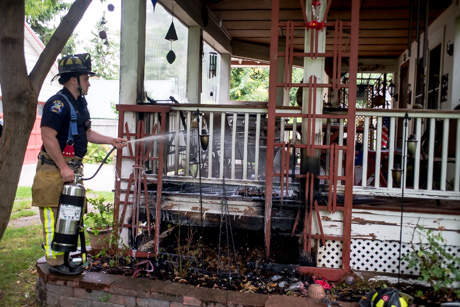 The back porch of the residence at 249 Ross St. is reportedly on fire. The blaze was called in to dispatch by a neighbor who is unsure if the house is occupied. City fire just arrived and there's no smoke showing.
UPDATE 1:49 p.m.: Command reports smoke is showing from the rear of the wood frame structure.
UPDATE 1:51 p.m.: Command says the fire is in a wall and is "out of control."
UPDATE 1:52 p.m.: Dispatch has made contact with the homeowner who returning home now.
UPDATE 2:09 p.m.: Fire is out. Firefighters are picking up and preparing to leave the scene.
UPDATE (by Howard): An alert neighbor and quick response by City Fire is probably what saved this house. Damage to the back porch, railing, eaves and smoke damage along the back of the house, showing it was minutes, if not seconds, from spreading extensively before it was put out.