Image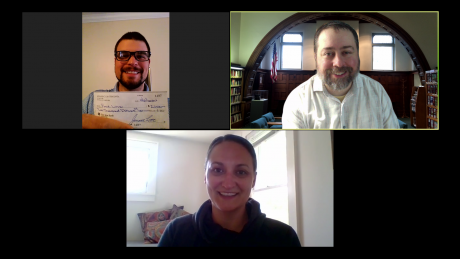 Submitted photos: Jonathan Tretter (top left), treasurer, and Robert Conrad (top right), president of the Kiwanis Club of Batavia, present a $2,000 donation to Foodlink Director of Development Julie Burke. The donation will be used to fund food charities in Genesee County.
Press release:
Kiwanis Club of Batavia has donated $2,000 to Foodlink to help feed children and families in Genesee County. The Club has been serving the children of our community and beyond since 1923.
"Foodlink is proud to serve the residents of Genesee County and collaborate with our hunger-relief partners to help individuals and families overcome the hardships created by the COVID-19 public health crisis," said Julia Tedesco, president & CEO of Foodlink.
"The Kiwanis Club's generous donation comes at a critical time, and helps increase access to nutritious food for hundreds of households throughout the county."
With the help of many local volunteers, Foodlink hosted six drive-thru distributions in Genesee County in April and May; three at Northgate Free Methodist Church in Batavia, two at Penuel Christian Fellowship in Le Roy, and one at Bergen Evangelical Presbyterian Church.
More than 1,500 emergency food supply boxes were distributed to individuals and families in need.
Foodlink also continues to work with its network of hunger-relief agencies (food pantries, meal programs, etc.) throughout Genesee County, which includes several partnerships in Batavia. 
"When the shutdown first started, Kiwanis Club members immediately started reaching out to food-providing agencies regarding the need for volunteers and funding," said Bob Conrad, president of Kiwanis Club of Batavia. "We discovered that Foodlink was providing and coordinating the food resources for our local agencies, such as Salvation Army and Community Action Genesee-Orleans.
"We learned that they can provide $6 worth of food for every $1 spent. We decided this is the most effective way to support emergency food initiatives in the county."
The funding provided will support existing emergency food efforts in Genesee County, and allow for the purchase of food, expenses associated with storage, and distribution to various partners, food box sites, and hunger-relief programs throughout the county.
According to Feeding America's recent report, "The Impact of the Coronavirus on Food Insecurity," Genesee County's food-insecurity rate is expected to rise from 10.2 percent to 15.7 percent, which equates to more than 9,100 county residents who now live in food-insecure households due to the pandemic.
Food insecurity is the USDA measurement used to determine a household's limited or uncertain access to enough nutritionally adequate food for everyone in the household to live a healthy life.