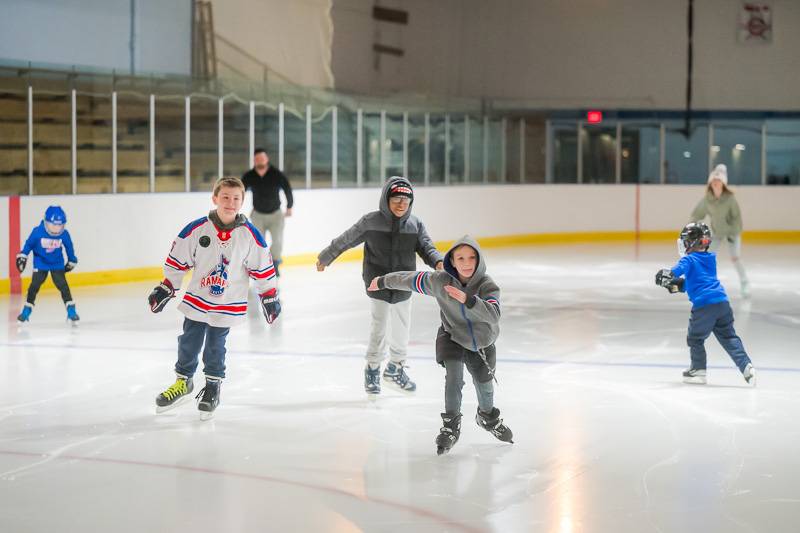 When faced with the decision whether to sleep in on the Thanksgiving holiday or get up early and spend some time at the McCarthy ice arena Thursday morning, Patrick Suozzi didn't have to think twice, he says.
The Batavia High School senior threw on some warm clothes and headed to the Evans Street rink, along with several high school students, for a first-time gathering of the Batavia Key Club.
"It's awesome," the 17-year-old said. "It's a good way to give back to the community and help the kids. I've been helping kids color and will help them skate."
A yearly tradition since 2007, Batavia's Kiwanis Club has hosted a Community Skate at the ice rink every Thanksgiving. It draws many kids and families to kick off the day with some skating, mingling and hot cocoa, with this year being no exception, said Pete Guppenberger, one of the longtime Kiwanis hosts of the event. 
Suozzi knows Guppenberger, he said and has become more familiar with the club and how it does activities in the community. That has made him want to become more involved, especially now that teacher Allison Chua has taken on the role of adviser for the Key Club.
"The reason I started it was because, years ago, we had talked about it, and we were gonna have a Kiwanis Key Club, and then it kind of fizzled out. And I do a whole bunch of other things for the school, and I do the newsletter … and I'm the freshman class adviser, and I'm involved in a bunch of other activities and clubs, but Mr. Smith, when he joined the Kiwanis Club, came to ask me about running a Key Club, and I thought, yeah, I think we need that at the school because in this time of COVID, and all these things that had happened, I think we all realized how important it was to help in the community and help each other," Chua said. "And this club is all about reaching out to the community and helping, so I'm all about that."
Key Club International is the high school branch of the Kiwanis International family, classified as a Service Leadership Program and, more specifically, as a Kiwanis Youth Program. Many Key Clubs are sponsored by a local Kiwanis club. Chua will help to organize the students, and then they will lead their own school club, which is to provide opportunities to provide service, build character and develop leadership, according to Kiwanis Key Club International.
There were 67 students that showed up to the initial meeting at BHS — Chua jokes that they were drawn to the pizza being served — and that has settled down to about 45 that will remain in the club. 
On Thursday, 17 students came to the ice rink for this first service-based activity. Students sat and colored pictures with kids near the concession stand while others helped anyone who needed assistance with skating around the rink.
Drew Stevens has grown up in a "hockey family," she said, and likes to skate. The 10th-grader came with a few of her friends.
"It's a good way to be helpful with kids and families while doing something I like to do," she said.
Lila Callan, a junior, agreed.
"It's a good way to get involved with the community, and on Thanksgiving," she said.
A third friend also thought that it was "a good way to get volunteer hours," while doing things such as arts and crafts, she said.
There will be plenty of opportunities for them to rack up hours while getting out into Batavia, Chua said, since local nonprofits have expressed a need for more volunteers and the ideas keep building — doing garden work, cleaning cars of snow in winter, shoveling, to name a few. 
They want to help in the community. And they're glad that there's something they can do. And, of course, it does help them because service organizations are always good for the building of their resume, and for being part of a community of helpers and learning, and I think colleges are looking for that now," she said. "They're looking more for a well-rounded student. It's not just about how high your grades are. It's more about who you are as a person, what you do for people, and how you work collaboratively with others. And I'd be glad to give recommendations to these kids that are working hard, and that'll be a pleasure for me to be part of that."