July 31, 2019 - 6:37am
Batavia Muckdogs win, 1-0 on one-hitter from Rose, Villalobos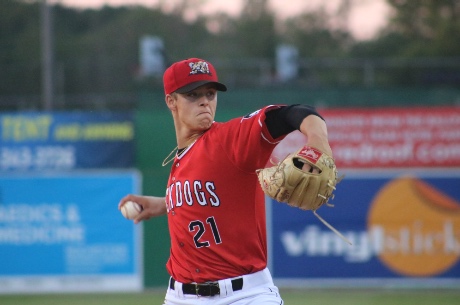 Submitted photo and press release:
TROY -- The Batavia Muckdogs have won a lot of close games this season. Tuesday night, the Muckdogs won not only a close game, but a game that was stopped because of rain after six innings.
Jackson Rose and Eli Villalobos combined on a "perfect" one-hitter as the Muckdogs defeated the Tri-City Valley Cats (Houston Astros), 1-0.
Rose, a 35th-round draft pick of the Miami Marlins in 2018 out of Minnesota, improved to 5-2 on the season as he went five innings, struck out four and did not allow a walk or a run. He gave up a single in the third inning.
Villalobos, a 14th-round pick of Miami in 2018, threw the sixth, striking out two and getting a ground out to Nic Ready at third topic up his second save of the season.
After that play, the rains came down and the thunder and lightning were closer and the game was called.
Batavia improved to 26-18, and remains in first place in the New York-Penn League Pinckney Division.
Julian Infante, who joined the Muckdogs Tuesday from the Gulf Coast League, singled and scored the only run of the game.
Infante, a first baseman, was a 36th round draft pick of Miami this year and played at Vanderbilt. he is a Miami native.
Catcher Andres Sthormes singled in Infante for the game-winning RBI in the fifth inning. Another new Muckdog (who has played Batavia), Harrison Dinicola, had a single and Jack Strunc also singled.
After Batavia took a 1-0 lead, Rose had a seven-pitch inning thanks to the defense of Muckdogs' left fielder J.D. Orr. The first batter, Joe Perez, hit a low-liner to left and Orr made a running, diving catch and rolled twice, holding onto the ball. With little time to enjoy the grab, C.J. Stubbs then hit what appeared to be a base hit and again made a great catch.
Batavia is at Tri-City on Wednesday and Thursday.
The team returns home to Batavia on Friday to play the Connecticut Tigers. Check muckdogs.com for a new ticket special for Friday's game, a family four-pack of tickets is just $20. The game is at 7:05 p.m.
The Muckdogs also play at home Saturday at 7:05 p.m. and Sunday at 5:05 p.m.
There will be fireworks on Saturday and specials all three games.
Tickets are available at muckdogs.com or stop by the Dwyer Stadium Ticket office between 10 a.m. and 5 p.m. during the week. The number is 585-483-3647.
Photo: Eli Villalobos earned his second save of the year, throwing a perfect inning with two strikeouts as the Batavia Muckdogs defeated the Tri City Valley Cats, 1-0 in a game called after six innings because of rain. Batavia is 26-18 and in first place.