March 4, 2017 - 3:18pm
Chamber Awards: Business of the Year -- Liberty Pumps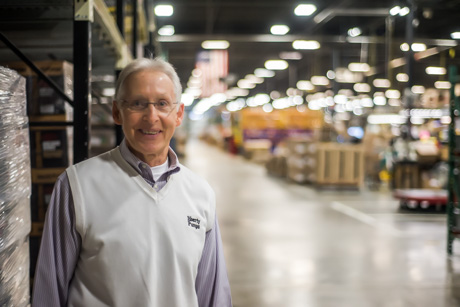 Quality products, enterprise and innovation, peerless customer service and a commitment to international growth are the hallmarks of Bergen-based Liberty Pumps. Combine these with an exceptionally skilled and dedicated workforce of about 200 employees (counting temps and part-timers), including a 19-member executive team, and you have a winner.
The Genesee County Chamber of Commerce named Liberty Pumps its 2016 Business of the Year.
The privately held, family-owned company makes sump, effluent and sewage pumps for the professional trade. Last year, sales were well over $95 million.
Firmly at the helm is CEO and President Charles Cook, who everybody calls "Charlie." His uncle, Fred Cook, started the business in 1965. Charlie joined the company as an engineer and bought the business back in the the '70s.
Charlie holds two of the dozen or so patents on Liberty Pump products. These are proof of his and his company's ability to find creative engineering solutions to solve problems, resulting in products that are designed and manufactured with exacting specifications to do tough tasks.
For example, they developed a grinder pump that can handle disposable products like baby wipes and throw-away cleaning products like Swiffer cloths that can jam traditional sewage pumps. They are currently working to develop their biggest pump to date. Their engineers can tweek the flow meters, turn valves and pressure gauges in a tank filled with water 12 feet deep, all while tracking the progress in real time on big computer screens. It's fascinating to watch.
The engineers work behind closed doors, of course, "no cameras" allowed. 
The manufacturing, assembling, painting, and other aspects of the business are spread out in a gargantuan building. The floor of the manufacturing plant itself is more than 200,000 square feet.
In 2015, they undertook a massive, multimillion dollar expansion project, roughly doubling the size of the facility on Apple Tree Avenue. The office building is sleek and spacious, and there's an Internet cafe, fitness center and state-of-the-art teaching/presentation/meeting rooms, too.
The overall impression is that of a clean, efficient, comfortable work environment. It's quite impressive.
"Day to day you don't think about it," Charlie said about the newly renovated premises after giving a tour. "But once in a while you have to stop and pinch yourself and say 'How did I get here?' We're proud of it and we like to show it off."
More important than the space is the culture of the workplace, which Charlie says is a top priority. 
"Taking personal responsibility is important," he said. "We give people freedom to present ideas and implement them. We have an active suggestion program."
The ideas of employees can boost productivity and increase safety, and recognizing their contributions benefits the work environment and helps the company succeed, Charlie said.
So does an Employee Stock Ownership Plan, which was implemented in 2014. It provides the majority of employees with shares of stock as part of their retirement package. To be fully vested and receive shares, an employee must work for the company for five years. Every year, employees get a statement with their share information and they can sell their shares back to the company when they retire. The company averages an annual growth rate of about 13 percent and the quantity of shares each vested employeed receives increases with growth.
Although Liberty Pumps has been asked about relocating elsewhere, Charlie says he's not budging.
"We're very proud to be a local U.S. business," Charlie said. "It can be a tough environment in New York from time to time, but our people are connected here. Our executives are all homegrown. We aren't going anywhere."
But their products are going more places than ever. The sales growth potential is high, not only nationwide and in Canada, where they've sold goods since the mid-'90s, but also internationally. Since expanding its global presence in 2010, Liberty Pumps now ships to more than 30 countries.
And along the way, the company has garnered impressive awards from Greater Rochester Enterprise's International Business Council, for example, and it's landed on the Rochester Top 100 list of businesses for 16 of the last 19 years. In May, Liberty Pumps was one of only 123 companies nationwide to receive the President's "E" Award for exporting excellence at a ceremony in Washington, D.C.
But nothing beats the recognition of your peers, friends and colleagues in your own backyard, says Charlie.
The award from the Genesee County Chamber of Commerce "is far more meaningful," he said. It will be presented tonight at the Quality Inn & Suites in Batavia.