November 4, 2018 - 11:37am
Church fire reported on Rose Road, Batavia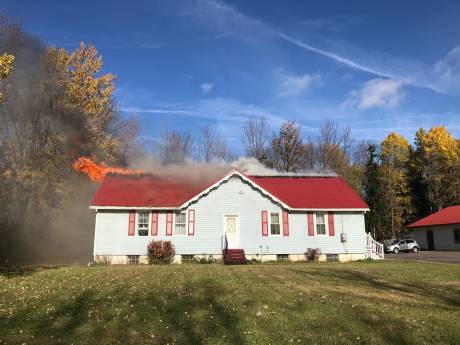 A church-owned house next to Faith Community Chapel is on fire at 4131 Rose Road, at the intersection of Rose Road and Route 98 in Batavia. Flames are showing. It has a metal roof. Churchgoers were on the premises when the fire broke out, but they are believed to all be out of structures. Town of Batavia Fire Department is responding.
UPDATE 11:38 a.m.: Flames have well involved the west side of the house and are shooting through the roof, according to a firefighter on scene. Alexander's Fast Team is called for mutual aid, along with Le Roy and Stafford fire departments and Mercy medics.
UPDATE 11:42 a.m.: A first responder has shut off the natural gas line on the property. They are clearing the parking lot of vehicles to accommodate emergency equipment. The American Red Cross is called to the scene.
UPDATE 11:48 a.m.: National Grid is called to shut down power. Traffic is being held at Route 98 and Rose Road.
UPDATE 3:09 p.m.: The family dog was rescued from the house before the fire spread but the fate of a cat was unknown. Throughout the fire and overhaul, it was believed the cat was in the basement. The basement was flooded and firefighters had to pump water out. We just received word the cat was found alive and was rescued.
UPDATE 3:25 p.m.: Town of Batavia assignment back in service.