September 23, 2015 - 11:17am
Convoy of Bergen fire trucks to be escorted through county on way to Monroe ME's office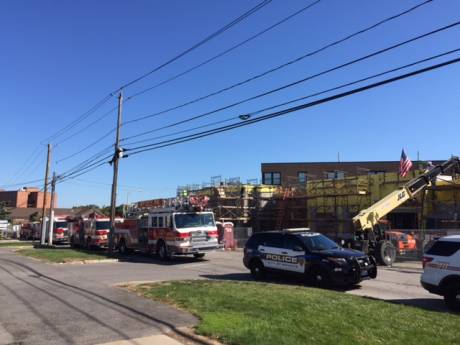 A convoy of fire trucks and police cars has converged at United Memorial Medical Center in the aftermath of the death of a Bergen ambulance volunteer crew member who died this morning in a head-on collision with a backhoe in Riga. The man, whose identity has not been released, was part of a three-member team responding to a mutual aid request for emergency medical aid.
Batavia police and fire and Sheriff's deputies will lead the convoy of Bergen fire trucks to the county line as it escorts the body of their fallen comrade to the Monroe County Medical Examiner's Office.
UPDATE 11:47 a.m.: Photos of the escort. An H.E. Turner van transported the deceased to Monroe County.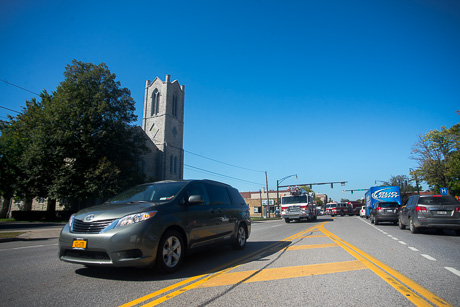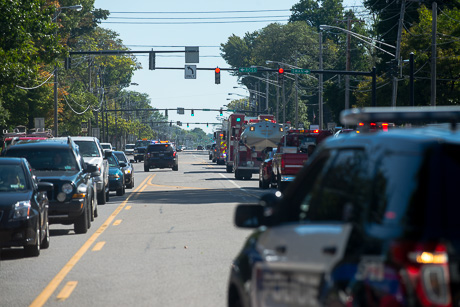 UPDATE 12:32 p.m.: The Batavian's news partner, 13WHAM has confirmed through sources in Monroe County that the deceased is Barry Miller, who was not only a multi-decade volunteer with the Bergen department and chief of EMS, but a county coroner. Below are photos from 13WHAM of the procession passing through the Rochester area.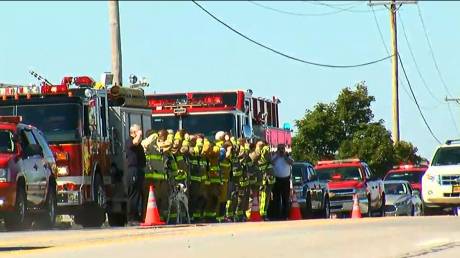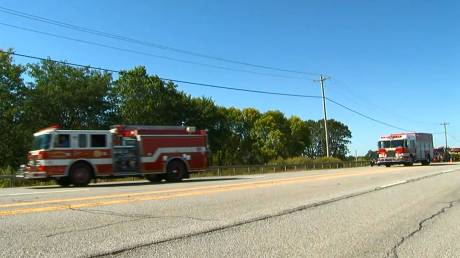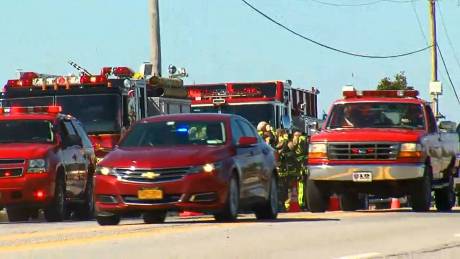 UPDATE 1:24 p.m.: 
A video report from 13WHAM:
UPDATE 3 p.m.:  News release from the Monroe County Sheriff's Office:
Around 7:30 this morning deputies responded to a crash between an ambulance and a backhoe on Bovee Road, just west of Brew Road, in the Town of Riga.

On arrival deputies found a Bergen Fire Department ambulance with severe front-end damage and a Town of Riga Caterpillar backhoe in front of the ambulance. The driver of the ambulance, Zackery W. Czudak, DOB 1985, of Bergen, said they had been dispatched to a Johnson Road, Riga, residence for a medical call. While traveling east on Bovee Road he struck a backhoe which was also travelling east. Czudak said he had reduced his speed because of sun glare and patches of fog in the area.

The front passenger, EMT Barry G. Miller, DOB 1965, of Bergen, was transported to United Memorial Medical Center in Batavia where he was pronounced dead. EMT Gina B. Bliss, DOB 1963, of Bergen, who was in the rear cabin of the ambulance, was transported to the hospital with minor injuries. Zackery W. Czudak was not injured but transported to the hospital as a precaution. The driver of the backhoe was not injured.
UPDATE 4:55 p.m.: There will be a candlelight vigil in memory and honor of EMT Barry Miller tonight at 8 at the Bergen Fire Department, 10 Hunter St., in Bergen.