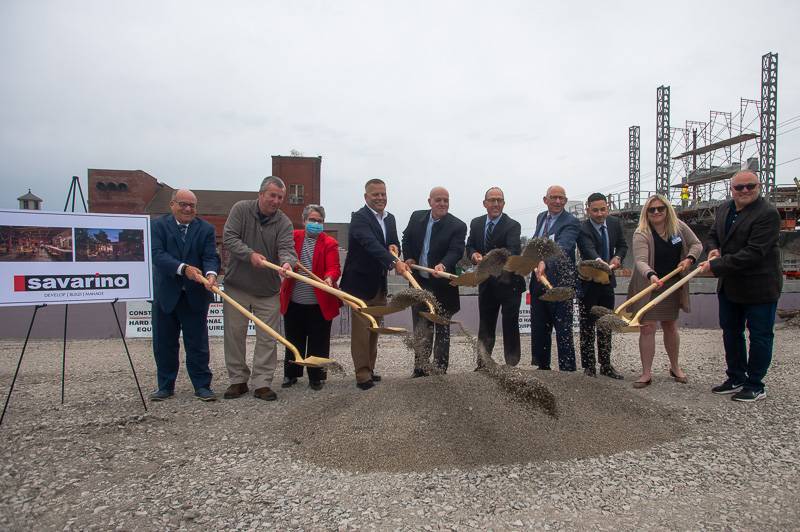 While a few prospective tenants of the stalled Ellicott Station strategize their next move, folks at Genesee County Economic Development Center apparently believe they are making headway.
A few of the tenants chosen for the Southside apartment complex are considering possible legal action against Savarino Companies for pulling out of the project that has left them dangling with hope that they might still have a new home come 2024. As one tenant said, it's about "what Savarino did to all of us, 'cause it's not fair to us."
Meanwhile, Steve Hyde, CEO of the county's economic center, gave a brief yet vaguely optimistic statement this week that his agency has been working with Sam Savarino and the state Office of Housing and Community Renewal to get Ellicott Station back on track.
Hyde and his lead staff reviewed this past year's activity during the county's Ways and Means meeting. As noted in prior articles on The Batavian, City Manager Rachael Tabelski has said that developers have expressed interest in Ellicott Station, and Hyde provided further confirmation that talks are progressing.
"And, of course, our favorite project sits here, nearby. And you know, what I could say about Ellicott Station is I've been in the middle of discussions with the developer, general partner, the investors, and state housing. That's all in the sorting-out phase. But what I can say to you is it's likely we'll see a different general partner coming in at some point," he said. "And I think what we'll end up with is a project that will be better than what we currently had or what was previously designed. 
"I think there's some additional willingness by the housing HCR to work with us and be a little more flexible. It may not be perfect, but we'll end up with a better situation than we had," he said. "I can't say any more than that right now. But at least it's in the sorting out phase, and there's quite a bit of interest."
As for GCEDC's remaining portfolio, there were 75 projects that "committed $937 million of capital investment" versus the prior 76 projects at a $162 million investment, demonstrating what Mark Masse said was "just a much larger scale."
After celebrating her 10th year on the Legislature, along with Marianne Clattenburg as EDC liaison, it's been amazing to watch "the incredible investment that helps our local taxpayers," Chair Shelley Stein said.
"By having these opportunities for the creation of these businesses, the careers, it enhances our entire foundation of our economy here and careers. Our schools benefit from it. Our communities benefit from the investment," she said. "So some days are hard, some days are, you know, celebratory days. But this work is important to us here in Genesee County. Thank you."
Some of those hard days have been dealing with and enduring the lag of that Ellicott Station project, which stopped in mid-August when Savarino announced the closing of his company due to a financial snag with a project at Alfred State College and a loss of more than $3 million. 
Since then, city and county, along with HCR officials, have said they are working on moving forward, potentially with a new developer and financial agreements and construction schedule.
Tenants that were chosen in May for the 55 apartments received word earlier this month that they might want to search out alternative housing options since there's no guarantee about when Ellicott Station will be ready for occupancy.