March 23, 2018 - 2:30pm
Corfu student on college team that took second place at Northeast Cyber Defense Competition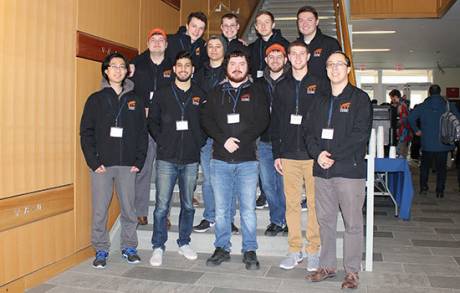 Kyle Carretto, of Corfu, is in the back row, third from the right.
Submitted photo and press release:
A team of Rochester Institute of Technology students, including Kyle Carretto, of Corfu, took second place at the annual Northeast Collegiate Cyber Defense Competition held March 16-18 in New Hampshire.
University at Buffalo took first at the 2018 regional competition. RIT placed second and Northeastern University placed third.
The annual event is part of the nation's largest college-level cyber defense competition, an extracurricular event that helps to train the next generation of cybersecurity experts. The competition gives student teams the opportunity to assume responsibility for the information technology operations of a simulated organization, allowing them to apply cyber defense skills in a real-world scenario.
For the competition, a group of industry professionals from government and companies-called the red team-is assigned to break into computer networks to exploit information from a mock company. Teams of students are "hired" by the company to prevent that information theft from occurring.
In this year's scenario, teams were brought into a fictitious security company called "Wild Eagle" and were expected to secure the network after members of their previous team left the company. Students had the opportunity to test their skills securing and defending widely deployed technologies, including Windows and Linux servers and workstations, next-generation firewalls, and cloud services.
Teams were scored on their ability to detect and respond to outside threats, maintain existing services, respond to business requests such as the addition or removal of services and balance security needs with business needs.
Rochester Institute of Technology is home to leading creators, entrepreneurs, innovators and researchers. Founded in 1829, RIT enrolls about 19,000 students in more than 200 career-oriented and professional programs, making it among the largest private universities in the U.S.
The university is internationally recognized and ranked for academic leadership in business, computing, engineering, imaging science, liberal arts, sustainability, and fine and applied arts. RIT also offers unparalleled support services for deaf and hard-of-hearing students. The cooperative education program is one of the oldest and largest in the nation. Global partnerships include campuses in China, Croatia, Dubai and Kosovo.