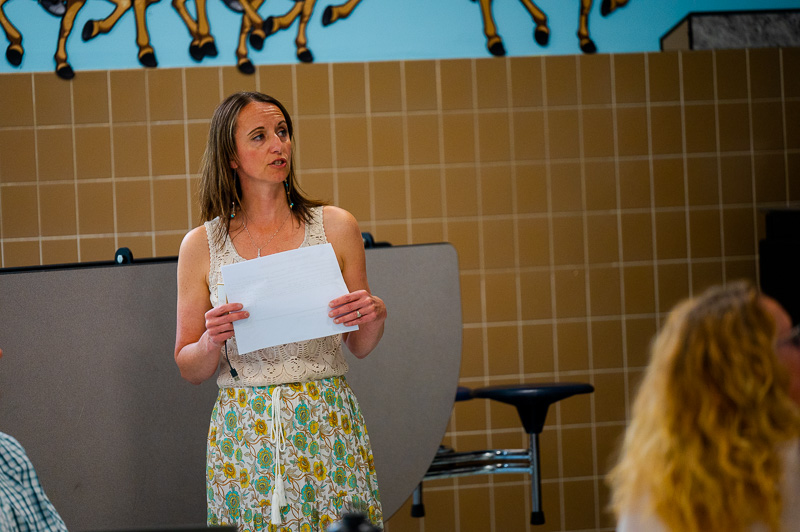 Variety, choice, quality ovens, a modern menu system, and health options are helping the Le Roy Central School District deliver nutritious and popular breakfasts and lunches to students, Melissa Saunders told the Board of Education at its regular meeting on Tuesday night.
Saunders is the district's school lunch manager.
During her presentation, she ticked off a number of accomplishments for the cafeteria staff during the current academic school year.
Among the accomplishments was a switch in online menu distribution from PDFs to a database-driven menu platform called Nutrislice.
"This has made my job a lot easier," Saunders said. "It's given me a lot more flexibility with the menu. It allows me to make real-time changes to the menu that everyone can see instantly."
The system allows her to store all the different food items that can go into making up a school day's breakfast and lunch menus as well as add products.  When compiling a menu, she can include nutritional information along with allergens.
"It's a really big project, adding all that information for every single product," Saunders said. "I mean, just tracking down nutrient analysis for some of these products is this challenging, but it's something we've been working on. It's something that we will continue to work on through the summer."
A board member asked if she makes a menu change is a notification sent to parents. She said there is no automatic notification, but if it's a significant change, she does send out a notification.
A new purchase this year is combi-ovens.
"They can add a precise amount of steam or a precise amount of browning to any food product," Saunders said. "My cooks love them. It has the capability of cooking with steam or cooking with heat, or cooking with a combination of steam and heat to get a precise moisture and browning on food products."
The ovens the district purchased, she said, were manufactured in Germany and are the #1 combi-ovens on the market.
Saunders has also been trying to serve students more fresh fruit, a program partially funded by the federal government.
"We've been really scaling back on the amount of canned fruit we use," Saunders said. "It still has a place within the menu. There's still some products that the kids really like, and we will continue to use, so it's not that I'm not going to use it or the goal is to never use it but to really ensure that the majority of what they're getting is fresh. The reason for that is that during the canning process, food loses its nutrients. We've been using for fresh fruit this year -- we've used strawberries, we've used cantaloupe, leeks, honeydew, melon, watermelon, kiwi, clementines, blueberries, pears, oranges, apples, bananas. We've been trying to give them a really good variety."
Saunders is also working on scaling back the number of food items that include whey protein as filler.
"It's in a huge amount of products to use across the board," Saunders said. "Personally, from my interest in nutrition, I feel like it would be an improvement to our program to use less of (whey protein filler). Again, just like with the canned products, we won't necessarily be able to completely get rid of it, but can use some cleaner products without whey protein fillers."
She said she is now buying products like chicken tenders, chicken nuggets, and popcorn chicken, that doesn't use whey protein fillers.  She's also found a nearby New York company that makes meatballs without whey protein filler. They're also allergen-free meatballs. 
"That's a focus for next year," She said. "We were awarded some money from a local food and school cooperative grant that's going to allow us to purchase some more New York foods. I can put it towards things like the meatballs."
For breakfast, the staff had been serving prepackaged meals, but during the recent National Breakfast Week, the staff went in a different direction.
"It didn't allow for a lot of choice," Saunder said. "So during National School Breakfast Week, we discontinued using those, and they now have a variety of different cereals, cereal bars, and little snack options that they can create their own breakfast bag."
The number of meals the district served increased when meals were free during the pandemic, Saunders noted, but the district is still serving more meals than it did before the pandemic. 
Districtwide participation in breakfast is up 45 percent over the 2018/19 school year, and participation is up seven percent for lunch.
The variety of choices for students, which always includes warm foods and things like yogurt and fresh fruit, is helping to drive meal participation, she said.
In April, The Batavian reported about issues the district was facing with unpaid meal bills for some families. Superintendent Merritt Holly told the school board that staff was trying to work with families to handle the topic in a sensitive manner.  The district at the time was owed $2,751.58 for meals that had not been paid for at the time they were served (the district has a policy of providing a meal to every student who wants one, requiring students who don't have any money with them to pay for it).
The Batavian's story promoted two people to come forward and offer to make donations toward paying the unpaid bills.  This evening after the school board's regular meeting, Holly said the district has yet to work out how best to accept those donations, and he isn't sure how much those people are planning to donate.  He doesn't know, he said, if the donations will cover all of the unpaid bills, which have likely gone up in the past month, he said.