July 2, 2020 - 2:29pm
CTE students inducted into the National Technical Honor Society
posted by
Billie Owens
in
Batavia Career and Technical Education (CTE) Center
,
Milestones
,
COVID-19
,
Alexander
,
batavia
,
byron-bergen
,
elba
,
Le Roy
,
Notre Dame
,
pembroke
,
oakfield-alabama
.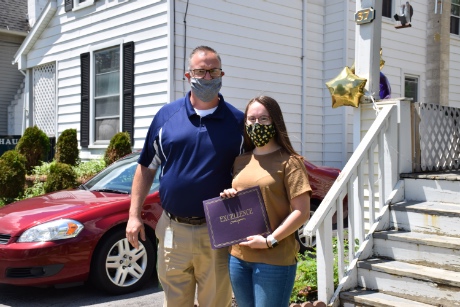 Top photo: Macayla Burke (right) receives the first-place Holowach Scholarship from Jon Sanfratello, executive principal, GV BOCES Batavia Campus. Macayla is a Health Careers Academy student from Batavia City School District.
Submitted photo and press release:
The Batavia Career and Technical Education (CTE) Center is proud to announce the achievements of its seniors. Due to the COVID-19 pandemic, this awards ceremony event that was scheduled to be held in June was canceled.
The 25 Genesee County award winners, their programs, home schools and scholarships received, are noted below.
Chase Bordonaro -- Building Trades, Le Roy CSD, Home Depot Award
Juliana Branche -- Culinary Arts, Batavia CSD, Culinary Arts Club Award
Jesse Bray -- Metal Trades, Batavia CSD, Dan Bender Award
Alexander Brumsted -- Building Trades, Byron-Bergen CSD, Home Owner Award
Macayla Burke -- Health Careers Academy, Batavia CSD, Holowach Memorial Scholarship – first place
Casey Felski -- Building Trades, Pembroke CSD, Building Trades Alumni Award
Wyatt Gaus -- Culinary Arts, Batavia CSD, Batavia Rotary, Chef Russell Bugbee Memorial Award, Culinary Arts Club Award, Holowach Memorial Scholarship (Alternate), Josh Mouery Memorial Award
Madison Heaney -- Health Dimensions, Le Roy CSD, UMMC Clinical Excellence Award, UMMC League Award
Paige Haile -- Health Careers Academy, Batavia CSD, AM Highest Academic Average, Holowach Memorial Scholarship – second place
Nicole Hume -- Metal Trades, Alexander CSD, Dan Bender Award
Jacob Humes -- Health Careers Academy, Batavia CSD, AM Clinical Excellence Award
Noah Kutter -- Culinary Arts, Pembroke CSD, Extra Mile Award
Benjamin LaBombard -- Metal Trades, Le Roy CSD, Gene Haas Foundation Award
Kyler LaCarte -- Building Trades, Le Roy CSD, Home Depot Award
Benjamin Lemley -- Building Trades, Notre Dame HS, Roy H. Turnbull Memorial Award
Dylan Pehrson -- Building Trades, Batavia CSD, Paul Levins Memorial Award
Paola Perez -- Justice Academy, Oakfield-Alabama CSD, Outstanding Achievement Award
Emma Sallome -- Cosmetology, Batavia CSD, Cosmetology Teacher Award
Wyatt Sando -- Metal Trades, Byron-Bergen CSD, Don Abramo Jr. Memorial Award
Dan Santullo -- Health Careers Academy, Alexander CSD, PM Highest Academic Average
Gavin Schmidt -- Collision Custom & Restoration, Batavia CSD, Select Collision Top Gun Award
Lauren Schmieder -- Health Careers Academy, Alexander CSD, PM Clinical Excellence Award
Tyler Stevens -- Collision Custom & Restoration, Elba CSD, Car Quest Auto Body Skills Award
Charlotte Wright -- Animal Science, Le Roy CSD, FFA Service Scholarship
Braeden Zimmerman -- Collision Custom & Restoration, Byron-Bergen CSD, Car Quest Auto Body Skills Award