June 9, 2021 - 12:04pm
Driver pinned in after rollover on Chaddock Road, Alexander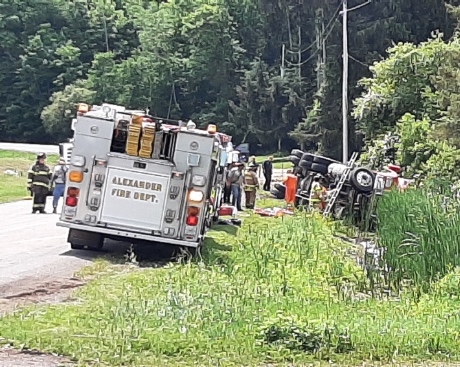 A one-vehicle rollover is reported at 11181 Chaddock Road in Alexander between Spring Road and the Wyoming County line. The male driver is conscious and alert but pinned in by the steering wheel.
Alexander Fire Department and Mercy medics are responding along with Attica and their extrication equipment. Mercy Flight's availability is checked and it is available.
"We're gonna need help with extrication -- he's pinned in there pretty good," says command at the scene.
UPDATE 12:08 p.m.: Mercy Flight is called to the scene and has a 12-minute ETA. Dan's Towing is en route with a heavy wrecker/"rotater." Milk is spilled in a ditch; the Department of Environmental Conservation is advised. 
UPDATE 12:12 p.m.: "A large amount of milk is down in the soil, uncontrolled at this point," says a first responder. A DEC rep is being requested to the scene. Mercy Flight will land in a cornfield east of the accident site. The driver of the tanker truck has a severe leg injury.
UPDATE 12:54 p.m.: Stafford fire is asked to fill in at Alexander's fire hall.
UPDATE 12:57 p.m.: Attica is being deployed as rehab for the first responders.
UPDATE 1:12 p.m.: Elba's rescue equipment is requested to the scene.
UPDATE 1:41 p.m.: One Alexander fire truck is back in service.
UPDATE 1:42 p.m.: Mercy Flight just lifted off to take the patient to a hospital to return to the Batavia hangar.
UPDATE 2:05 p.m.: Command releases Town of Batavia, Attica and Bethany. Alexander #6 will remain on scene.
UPDATE 2:41 p.m.: Alexander is clearing the scene, which is turned over to law enforcement.
MORE T/K
Photos by Alecia Kaus, Video News Service.