April 4, 2018 - 10:35am
First responders called to weather-related incidents county-wide
posted by
Billie Owens
in
elba
,
alexander
,
indian falls
,
news
,
weather
,
batavia
,
Le Roy
,
Oakfield
,
Pavilion
,
byron
,
Darien
,
Bethany
.
NOTE: Readers, if you have weather-related photos, photos related to anything in this post, email them to [email protected]
A tree is down, partially blocking the roadway at 10840 Bowen Road in Alexander. Alexander firefighters are responding with a chainsaw to cut the tree and remove it.
In the area of the Log Cabin Restaurant, a transformer and three or four power lines are down in the roadway. The location is 1227 Gilmore Road. Pembroke and Indian Falls fire departments are responding. National Grid is notified; no ETA -- "They're obviously are dealing with multiple issues."
Wires and/or tree branches are reported down on Whitney Mill Road in Elba.
UPDATE 10:41 a.m.: A tree and wires are down and entangled at 3583 Batavia Oakfield Townline Road.
UPDATE 10:43 a.m.: Tree down across the roadway at 9555 Beaver Road, Alexander.
UPDATE 10:44 a.m.: Tree and/or wires down on Francis Road, between Brown Road and Route 20, Bethany.
UPDATE 10:46 a.m.: Tree and wires down at 2781 Shelby Road. Oakfield Fire Department responding.
UPDATE 10:50 a.m.: DPW requested by City Fire to Cherry and Pringle for a large limb down blocking the roadway.
UPDATE 10:54 a.m.: National Grid is reporting 10 areas in Genesee County with power outages. The largest, 41 customers, is in Pavilion, in the area of Texaco Town. In Elba, Townline Road is being shut down at Pekin Road for a tree down.
UPDATE 10:59 a.m.: A tree has fallen into a residence at 3189 W. Main Street Road, Batavia. East Pembroke Fire dispatched.
UPDATE 11 a.m.: A semi-truck rollover accident is reported on Route 77 in front of Darien Lake Theme Park. Unknown injuries. Unknown cargo. Darien Fire dispatched.
UPDATE 11:04 a.m.: A large pine tree is reportedly down across the road in the area of 3525 Rose Road, Batavia. On Darien truck accident, truck is empty, no injuries, no fuel spill. Darien Fire can respond non-emergency.
UPDATE 11:08 a.m.: There is a power outage in East Pembroke with 40 customers without service. In Pembroke, a poll with a transformer is leaning with low hanging wires in front of Yancys Fancys.
UPDATE 11:23 a.m.: A box truck rollover accident is reported on Route 77 at McGregor Road, Darien. Injuries are reported. There are reportedly two occupants in the truck. Darien Fire dispatched. A chief is requesting that Route 77 be shut down to truck traffic.
UPDATE 11:27 a.m.: Route 5 is being shut down for westbound traffic at Route 77.
UPDATE 11:30 a.m.: Wires in trees with flames is reported on Dodgeson Road and Seward Road, Alexander. Alexander Fire responding.
UPDATE 11:35 a.m.: A tree and wires down, no fire, in the area of 2257 Countyline Road, Darien.
UPDATE 11:46 a.m. There is reportedly a car on tree branches and wires with a fuel leak in the area of 2023 Indian Falls Road, Pembroke. There are occupants in the vehicle. East Pembroke fire responding. No sparks are flames. Wires down at 118 E. Main St., Le Roy. A tree is down and blocking at Circular Hill Road and Wilcox Road, Byron.
UPDATE 12:10 p.m.: A tree is down on a house on Union Street. No structural damage. No wires down but it looks like the rest of the tree might come down soon.
UPDATE 12:13 p.m. A tree has come down on a gray Toyota Avalon at the McDonald's in Le Roy. It's unoccupied. Unknown owner at this time.
UPDATE 12:15 p.m.: In Alabama, 90 National Grid customers are without power.
UPDATE 12:20 p.m.: If we've got the right call here, occupants extricated at incident on Indian Falls Road.
UPDATE 12:24 p.m.: A dispatcher informs a Sheriff's patrol supervisor that there is a long list of pending hazardous conditions calls.
UPDATE 12:28 p.m.: A tractor-trailer rollover is reported in Pavilion on Route 63 at Court Road. Pavilion fire dispatched. Unknown injuries. Unknown cargo.
UPDATE 12:35 p.m.: Route 63 is being shut down. The driver can't be located. A pole with transformer is broken. The location is in Wyoming County. A Wyoming County deputy is in route. There is a fuel leak.
UPDATE 12:37 p.m.: The driver is in a pickup truck parked roadside.
UPDATE 12:38 p.m.: Oakfield fire is dispatched to 7001 Lewiston Road, the Oakfield-Alabama Central School District, bus garage, for a fire alarm in the gas island.
UPDATE 12:41 p.m.: On Pavilion truck accident, Mercy ambulance can continue non-emergency. Probably a sign-off. The trailer is empty. Small fuel spill to clean up.
UPDATE 12:46 p.m.: Westbound Route 5 in Le Roy is being shut down by Le Roy fire at York Road. We didn't catch the reason.
UPDATE 12:50 p.m.: Limb down on Pringle Avenue, Batavia. No electrical lines involved.
UPDATE 1:01 p.m.: A two-car accident is reported at Buffalo Street and Attica Road, Alexander. Alexander fire dispatched. Unknown injuries. A large tree is down on South Main Street. South Main is being closed at River and at Dewey.
UPDATE 1:13 p.m.: Wires arcing, 8503 Lover's Lane Road. East Pembroke fire dispatched.
UPDATE 1:15 p.m.: Tree down blocking on Gilbert Street, Batavia. Also, State Street is being blocked.
UPDATE 1:22 p.m.: Photo submitted by Cherie Chatt of a tree down on a house in Oakfield.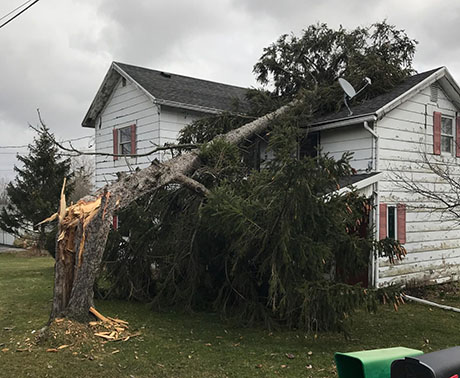 There is also a tree down on wires at 2781 E. Shelby Road. Oakfield Fire Police on scene.
UPDATE 1:25 p.m.: Tractor-trailer rollover accident reported at 6744 Quaker Hill Road, Elba. Unknown injuries. Unknown cargo. Elba fire dispatched.
UPDATE 1:28 p.m.: Reader-submitted photo of tree down on South Main Steet, Batavia.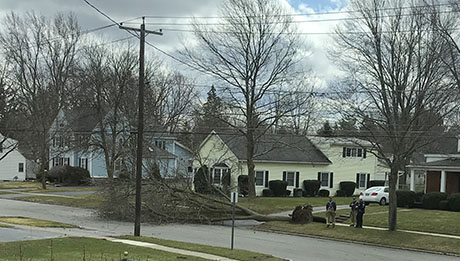 UPDATE 1:31 p.m.: Power outage in Elba, 316 customers without power. 
UPDATE 1:37 p.m.: Tree down on Fisher Road, Oakfield.
UPDATE 1:44 p.m.: Law enforcement dispatched to Lewiston Road in the area of the Thruway overpass for a report of a person in black pants and a black jacket with red hat looking in mailboxes.
UPDATE 2:23 p.m.: Traffic lights are out in the city at Main and Oak streets.
UPDATE 2:54 p.m.: Photo of Lewiston and Main, Batavia, about 30 minutes ago. There were strong winds and heavy snow for a short period. Every traffic light on West Main is out of service.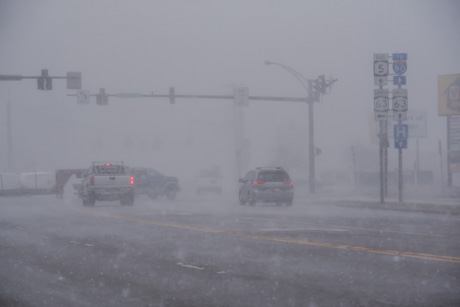 UPDATE 3:52 p.m.: It was a very busy day for emergency dispatchers. Sheriff William Sheron shared the photos below from one of the busy times. The call rate has slowed considerably over the past hour or so.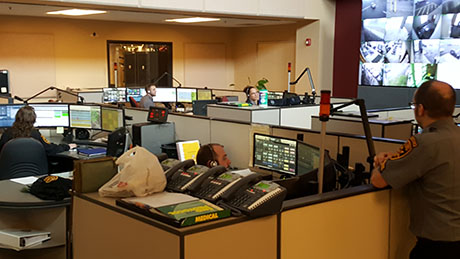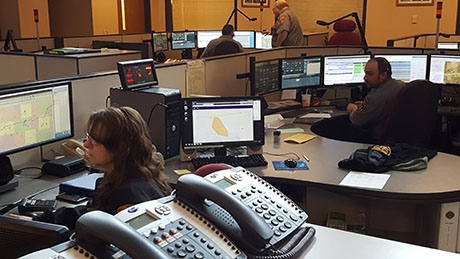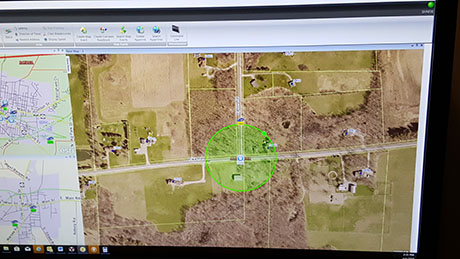 UPDATE 6:21 p.m.: Photo submitted by a reader, 40 Church St., Le Roy.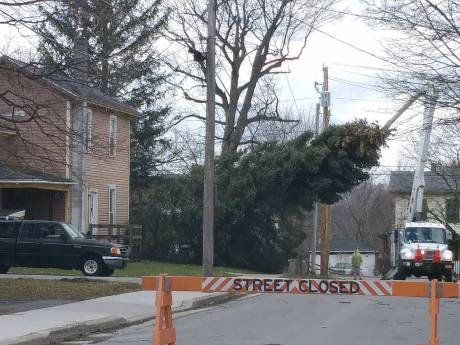 UPDATE 6:39 p.m.: Mari Egloff submitted these photos of trees down in her yard in Alexander.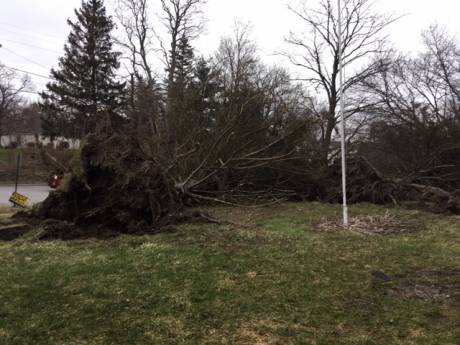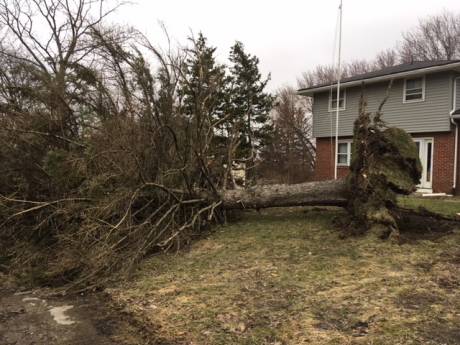 UPDATE: Dayne Burroughs and Pamela Reinhardt shared the pictures below of damage at St. Joe's Cemetery.