April 9, 2014 - 7:24pm
Fully involved garage fire reported on East Main Street, Corfu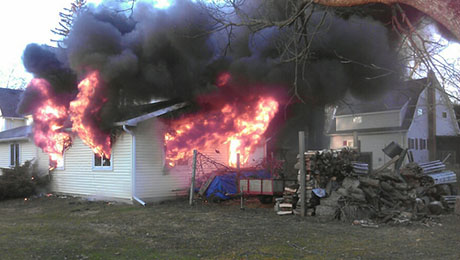 A fully involved garage fire with exposures to other property is reported at 68 E. Main St. in Corfu. Mercy medics are responding along with Corfu Fire Department and mutual aid from Darien, East Pembroke, Pembroke and the city's Fast Team.
UPDATE 7:26 p.m.: Corfu Fire Police are shutting down traffic at routes 77 and 33.
UPDATE 7:36 p.m.: An engine from Indian Falls is requested to fill in at Corfu's hall.
UPDATE 7:55 p.m.: Indian Falls is told to return to its fire hall.
UPDATE: Photos submitted by Officer Rich Retziaff, Corfu PD.