September 12, 2020 - 9:30pm
Fully involved house fire reported on Hartshorn Road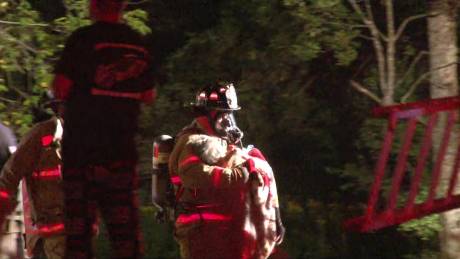 A fully involved structure fire is reported at 8699 Hartshorn Road, Town of Batavia. East Pembroke Fire Department is responding, along with mutual aid from Corfu, Town of Batavia, Alexander and Darien.
An occupant is believed to be trapped inside, according to neighbors. The location is between West Main Street Road and Pearl Street Road.
UPDATE 9:34 p.m.: A second ambulance is requested to the scene.
UPDATE 9:37 p.m.: The trapped resident has been removed and is being evaluated by medics.
UPDATE 9:42 p.m.: Fire knocked down; doing overhaul. Alexander fire can go back in service. Alexander's ambulance is going to evaluate the patient.
UPDATE 9:45 p.m.: GC Emergency Management Services asks Byron and Bethany ambulances to stand by in their quarters.
UPDATE 9:58 p.m.: The Alexander ambulance, with a Mercy medic on board, is transporting a patient to UMMC. A Mercy ambulance that just went in service is requested to the scene for firefighter rehab.
UPDATE 11:18 p.m.: Bethany and Byron ambulances can go back in service.
UPDATE 1:15 a.m., Sept. 13: A quick knockdown of a fire that appeared to be on the exterior of the house was the reason volunteer firefighters from East Pembroke and Batavia were able to rescue an elderly woman from her home on Hartshorn Road on Saturday night.
"I just can't be more proud of these guys right now," said Don Newton, chief of East Pembroke. "They got in there and did a great job of knocking it down and between our guys and the Town of Batavia, they just did a hell of a job getting her out of the house."
Tim Yaeger, emergency management coordinator for Genesee County, said the preliminary indication is that the fire started on the outside of the house near an electrical outlet but at this point, no cause of the fire has been determined and nothing has been ruled out.  
"I wouldn't say we're really leaning towards anything," Yaeger said. "We're just going to we have to actually look at every possibility. It's going to be a while for this investigation. Again, it's fairly rare to have a fire in outside on a porch so it's going to take some time to find out what exactly caused the fire."
East Pembroke fire is still on scene at this hour though some mutual aid companies are back in service.
UPDATE 11:40 a.m.: East Pembroke Fire is responding to a rekindle at the residence. Smoke is coming from the roof line.
Photos and interviews by Alecia Kaus/Video News Service.