May 17, 2018 - 1:28pm
GC Emergency Management Coordinator met with Assemblyman Hawley this week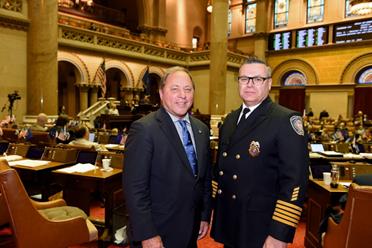 Assemblyman Steve Hawley poses with Genesee County Emergency Management Coordinator Tim Yaeger in the Assembly Chamber.
Submitted photo and press release:
"It was my pleasure to welcome Genesee County's Emergency Management Coordinator Tim Yaeger to Albany Tuesday and recognize the crucial role he plays in responding to accidents, natural disasters and keeping our residents out of harm's way," Hawley said.
"When calamity strikes, Tim always remains cool and collected under pressure, and I admire his work on behalf of all of Genesee County. It was truly a pleasure honoring him in Albany."
Yaeger, who wore his full dress uniform when visiting the state Capitol, was among a large contingency of officials in firefighting, disaster preparedness and emergency management statewide who traveled to Albany this week.