December 23, 2017 - 1:59pm
GCC's Roz Steiner Art Gallery to display 'The Chromatic Nude' by Michael Price starting Jan. 16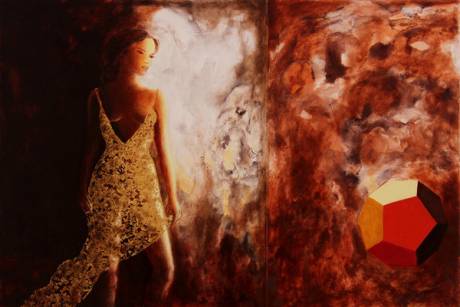 The painting "Otherworldliness" by Michael Price.
Press release:
"The Chromatic Nude," paintings by Michael Price, will be exhibited in the Rosalie "Roz" Steiner Art Gallery from Tuesday, Jan. 16 through Friday, Feb. 16. In this collection of his work, Price invokes historic methods of preparing paint and pigments using protocols that include naturally occurring minerals to produce his own paints.
Using natural minerals and semi-precious stones, including but not limited to lapis lazuli, azurite, malachite, ochre and cinnabar, he creates natural and luminous colors similar to how Renaissance painters did their work in the 14th to the 17th centuries. Price has published a two volume series of books titled "Renaissance Mysteries" in which he shares his research and discusses the processes.
His works of art explore the nude and human figure conceived within a timeless universe aiming to reveal how archetypal images are carried within ourselves as real, or imaginary - as the physical world we inhabit.
"Slowly, my research into natural color led to major developments in my painting practice. The human figure as a central archetype has remained constant over the last 40 years, but the figures have evolved to convey the essence of my search -- a chromatic figure or nude," says Price. "The chromatic nude is intended to transcend the restrictions of realism.
"They are not symbols, but signs, like the figures of Nicolas Poussin, that indicate universal direction free from social mores. The structural foundation for a composition is established by a specific rectangular format composed of square-root rectangles. This allows the message carried within the image to attain its maximum impact and resonance to unveil the memory of our immortality reflected from the mortal perspective."
Price was born in Stoke-on-Trent, England and he attended the London Central School of Art and Design, and Stoke-on-Trent College of Art. He has exhibited worldwide, including solo shows in the Post Gallery in Houston, Texas, Galerie Poller in Frankfurt, Germany, and David Findlay Galleries in New York City.
Several opportunities to meet the artist are scheduled on Thursday, Jan. 25 at the Roz Steiner Art Gallery. Price will lecture at 12:30 p.m. in the Gallery, and receptions will follow at 1 p.m. and again 5 p.m. Additional artist exhibit history and work is displayed on his website at www.michaelprice.info.
The Roz Steiner Art Gallery is open to the public Monday -- Friday from 10 a.m. to 2 p.m. and during special events as published at www.genesee.edu/campuslife/arts. Admission into the Gallery is always free and open to the public.