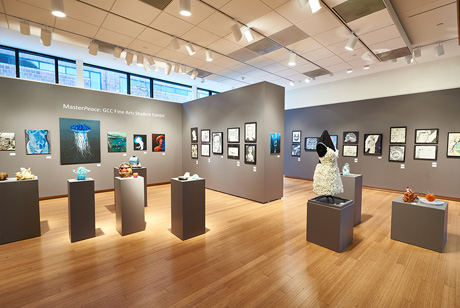 Press release:
Who: Calling all artists, sculptors, craftsmen, woodworkers, fiber artists, mixed media artists, photographers, painters, etc.

What: Art installations/gallery exhibitions/group shows for exhibition in the Roz Steiner Art Gallery

Where: Roz Steiner Art Gallery ~ Genesee Community College ~ 1 College Road ~ Batavia, NY 14020

When: Schedule for the 2023-2024 season and beyond

The Roz Steiner Art Gallery presents exhibitions by a variety of regional artists, faculty and students. We are proud to partner with the local community to uplift artists. The gallery opened in 2011, and since then, we have held a variety of shows featuring visual works, sculpture, ceramics, fiber arts, photography and other media. We offer a large professional space with state-of-the-art lighting and SMART technology to allow the presentation of new digital media, as well as online exhibitions. With over 1,700 square feet of space and equipped with moveable walls, the Roz Steiner Art Gallery is a flexible environment perfect for both intimate and large-scale exhibitions.

We also offer a secondary exhibition space in the form of the Stuart Steiner Theatre lobby. Equipped with the same fiberglass rail system as the gallery, we are able to install 2-dimensional work there.

The Art Gallery offers culturally-enriching events to GCC students and the community through a variety of media styles, concepts and processes. The College is an integral part of the arts community and works with regional arts organizations to enhance the Western New York art community.

The submissions and acceptance process are ongoing, so you can submit an application to the gallery at any time. Go to https://www.genesee.edu/campus-life/center-for-the-arts/art-gallery/ to submit your proposal. Please email [email protected] if you have any questions.

Submission requirements

Portfolio (digital/website preferred)
Biography
Artist Statement
Resume or CV
Exhibit proposal (include size and number of pieces to be displayed)
Available to do solo exhibitions, duos and group shows

Quality of Artwork

must be professionally matted and framed/displayed; ready to hang
aesthetically show professional quality skills and techniques
conceptually show originality and creativity
artwork must fill the gallery space accordingly (single, duo or group exhibit)

Scheduling Goals

schedule a diversity of media and concepts within a year's exhibition plan
offer students exhibit times for fine arts and digital arts
offer exhibit times for professional artists
offer exhibit times for community arts organizations that are prepared to exhibit high-quality art at an age-appropriate level (high school/college/ and adult group exhibits will be considered
Our goal is to create a well-rounded exhibit schedule that meets the above requirements.

Jury Procedure

The GCC Gallery Committee will jury the artwork and create a schedule of events for the Roz Steiner Gallery. The Gallery Advisory Committee will then approve the proposed schedule. After the exhibit schedule has been approved, the Gallery Manager will send out acceptance letters and collect Gallery Contracts from the participating artists. Exhibits dates will be confirmed and reserved when the artist hands in the signed contract agreeing to the exhibition terms.