September 7, 2018 - 3:11pm
Genesee County 4-H'ers show pork knowledge at New York State Fair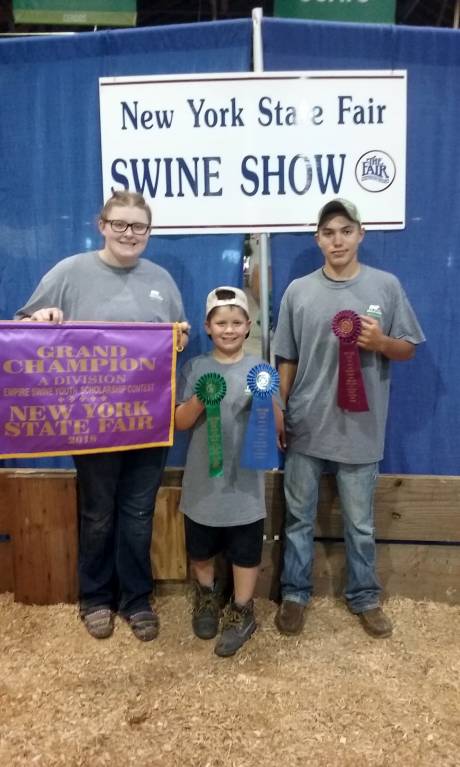 Photo, from left: Melissa Keller, Chase Zuber and Ben Kron.
Submitted photos and press release:
Members of the Genesee County 4-H Swine Club competed in the Youth Swine Competitions at the 2018 New York State Fair.
Melissa Keller, Ben Kron, and Chase Zuber each exhibited Market Hogs and Breeding Hogs in the 4-H/youth swine competitions.
In addition to competing with their hogs, youth members were also able to participate in many other knowledge contests and public presentations.
Each contest awards points to the youth's overall score, those points were then used to award Empire Youth Swine Scholarships.
The scholarships were presented by the New York Pork Producers.
The following Genesee County youth participated in the contest: Cheyanne Isaman, Melissa Keller, Ben Kron, and Chase Zuber.
Genesee County's own senior 4-H member, Melissa Keller capped off her 11 year 4-H career by winning Grand Champion -- Empire Youth Swine Scholarship Winner.
There were 40 youth from across New York competing in the contest and Genesee County 4-H Swine members won several top-five placings in the different contest areas. 
Senior Project Records:
Melissa Keller -- 1st
Ben Kron – 3rd
Senior Interviews:
Knowledge Swine Review/ Quiz:
Senior Division -- Melissa Keller -- 1st
Junior Divisions -- Cheyanne Isaman -- 3rd
Public Presentations:
Senior Division -- Melissa Keller -- 1st
Junior Division -- Chase Zuber -- 5th
Senior Swine Judging:
Senior Division -- Melissa Keller -- 1st
Junior Division -- Chase Zuber -- 3rd
Senior Skillathon:
Educational Poster:
Senior Division- Melissa Keller -- 1st
Junior Division- Chase Zuber -- 5th
Top 10 in Each Division:
Division A:  Melissa Keller – 1st, Grand Champion
Division B:  Cheyanne Isaman -- 6th place
Congratulations Genesee County 4-H Swine Club Members on Doing your Best at the 2018 New York State Fair!  To learn more about Genesee County 4-H visit: http://genesee.cce.cornell.edu/