January 3, 2019 - 1:51pm
Genesee Softball hosts All Skills Clinic this February, must register by Jan. 26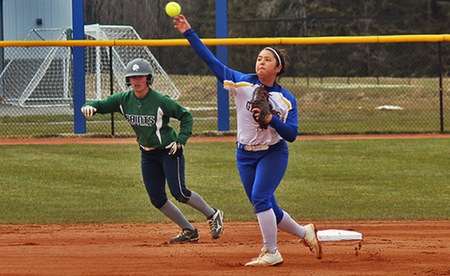 Photo of Shiori Ubukata making a play during this past softball season. (Photo courtesy of Genesee Athletics.)
The Genesee Softball Team is hosting their annual All Skills Clinic each Sunday throughout the month of February.
The clinic, taking place inside the Richard C. Call Arena, runs from 8 - 11:15 a.m. each Sunday in February. Pitchers and Catchers check in starts at 7:15 a.m. on Feb. 3rd while Hitters and Fielders check in starts at 8:30 a.m. Pitchers and Catchers clinics will run from 8 -9 a.m. with All Skills running from 9:15 - 11:15 a.m.
The cost of the clinic is $150 for both sessions. Pitchers and Catchers cost $50 with All Skills costing $120. Sign up with Batavia Girls Fastpitch Softball and receive $25 off the registration fee. Cash or checks are made payable to Genesee Softball. Players must be registered by Jan. 26.
The clinic is run by the Genesee Softball Coaching Staff and team and is designed for players ages 8 and up. The instruction will include a number of different drills and skill developing stations including pitching, catching, hitting, fielding, etc.
For more information, contact softball Head Coach Taylor Mauer at (585) 813-4327 or email [email protected]. Registration forms are available online here.