March 1, 2017 - 5:35pm
Hawley joins colleagues in calling for repeal of NY SAFE Act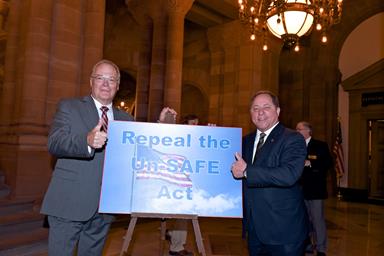 (Submitted photo of Assemblyman Steve Hawley (R,C,I-Batavia) [right] with New York State Rifle and Pistol Association President Tom King at today's press conference in Albany.)
Press release:
Assemblyman Steve Hawley (R,C,I-Batavia) today (March 1) joined his colleagues in Albany for a press conference to call for a repeal of provisions of the infamous NY SAFE Act in Upstate New York and on Long Island. Legislation was introduced, which Hawley sponsors, which would limit the gun control measure to the counties of Kings, Queens, Bronx, New York and Richmond.
"It is long beyond time for the unconstitutional SAFE Act to be repealed in Upstate New York," Hawley said. "Setting aside the facts that this bill was passed secretively in the middle of the night and is in direct violation of the Second Amendment, upstate families and businesses are less safe because of this law.
"Unlike in New York City where police are readily available, upstate citizens deserve to be able to protect their families in the event of an intruder, especially in rural areas where law enforcement may be many miles away."
Hawley's 'Two New York's' bill was mentioned prominently during the press conference as an example of how different areas of the state can be carved out for various policy implementations. Hawley, a longtime supporter of the Second Amendment, hunters, sportsmen and local S.C.O.P.E. chapters, was one of the first to come out against the SAFE Act, which was rushed through the Legislature in the middle of the night with little to no public or stakeholder input.
"There has long existed a cultural difference between New York City and Upstate that has dictated policy," Hawley said. "If Downstate special interests can carve out special zones for policy initiatives like ride-sharing, the minimum wage, the property-tax cap and local government assistance and include them in budget bills, then there is no reason Upstate residents should have to abide by these laws that were specifically pushed by New York City politicians.
"I am calling on Assembly and Senate leadership to include our bill as part of budget negotiations and eliminate upstate New York from the SAFE-Act's unlawful regulations."
March 2, 2017 - 9:15am
#1
After the UNsafe act was passed [with help from some Republicans ] we the members of SCOPE organized a Rally at the capitol where near 14 thousand of us protested the unconstitutional gun ban ! Kuomo went to NYC with his buddies and came back the next day like nothing had happened, We fought and Fought yet the NYC Democrats Control the state and we cant restore freedom . SO I MOVED out of NY to the free state of West Virginia. The month I landed here the elections turned the state Red and since then we have a freedom oriented Government and last year voted to rescind the need for a Pistol carry permit. It is wonderful to live in freedom ,, NO So called assault weapon ban --NO Magazine bans and a Shooting range on my own property,,My Property taxes are $800 on 6 acres of wooded country land with a 2 story log home from the 1800's Deer In the yard every day and NO ZONING Harassment..No Salt to eat our cars and My heat bill was $100 last month !! My Wifes Business is doing great . I Know some are trapped in NY But as soon as you can MOVE away as soon as you can,, I Know its hard to leave family and friends of a lifetime but the result is freedom that tastes so sweet ! the dark clouds of depression leave and the Blue sky's open and out come the Birds and small animals singing sweet in sound !! and the people are so wonderfully nice !! Randy!!