February 24, 2020 - 4:25pm
Hawley joins U.S. Homeland Security to highlight dangers of 'Green Light Law'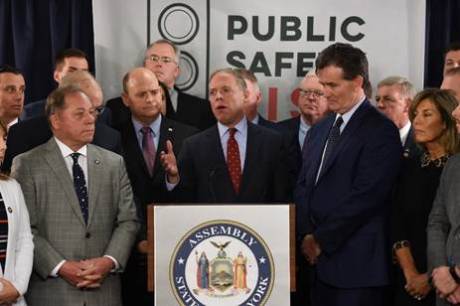 Submitted photo and press release:
Following a briefing in Albany by members of the U.S. Department of Homeland Security, Assemblyman Steve Hawley joined lawmakers from across the state today (Feb. 24) at a press conference to highlight the dangers of the "Green Light Law," which went into effect on Jan. 1.
The law, which a recnt Siena Poll show is opposed by 48 percent of New York voters, allows illegal aliens to apply for a New York State driver's license. 
Gov. Cuomo and legislative leaders have expressed strong opposition to allowing Customs Border Patrol and U.S. Immigration authorities to access the Department of Motor Vehicles (DMV) database to improve data sharing efforts.
Genesee County Clerk Michael T. Cianfrini recently wrote to Gov. Cuomo requesting that an amendment be passed allowing Customs Border Patrol to gain access to the DMV database. 
"As egregious and offensive this law is to law-abiding New Yorkers, we shouldn't be making matters worse by limiting cooperation with federal immigration authorities who use this information to keep the country safe," Hawley said.
"Cooperation and data sharing between law enforcement agencies are key to tracking down and apprehending dangerous individuals and state leaders in New York are putting us all at risk by playing these political games with Washington.
"I am calling on Gov. Cuomo and legislative leaders to work with us to amend this dangerous law before the public's safety is compromised any further."
Photo: Assemblyman Steve Hawley, left, listens as Assembly Minority Leader Will Barclay speaks at the podium on the dangers of the "Green Light Law."