October 5, 2018 - 2:45pm
Help deputy find owner of puppy found wounded, starving, unable to walk, covered in feces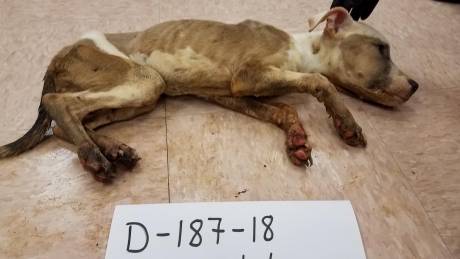 (Submitted photos) The condition of the abused puppy at the time she was found last night in Stafford.
The public is asked to help law enforcement find the owner of this emaciated puppy found last night on Route 33 and Prole Road Extension in Stafford.
The fawn-and-white colored female weighs only 9.2 pounds. The dog is not able to stand on its own. It was covered in urine and feces. It is severely dehydrated and malnourished.
The puppy was picked up by a Good Samaritan and turned over to the Batavia City PD and the case is now being investigated by the Genesee County Sheriff's Office.
Due to the nature of the wounds present on the puppy, this is being investigated as animal cruelty.
The puppy was immediately examined and treated by a local veterinarian and was being cared for at the Genesee County Animal Shelter with the assistance of the Volunteers for Animals. They have named her "Opal" and she is now in a foster home until she is well enough to be adopted.
If you any ANY information about the owner of this puppy, please contact Sheriff's Deputy Kevin Forsyth at (585) 345-3000, ext. 3233.
Below, "Opal" today, clean and wrapped snuggly in fleece at the vet's office.
October 5, 2018 - 7:56pm
#3
My new dog-puppy Toby, recently turned 13 Months old, and he weighs 20 pounds. In contrast, Toby weighed 5 pounds when we brought him home. He knows sit, down and shake. Toby was kennel trained in a week. Yes, he still has puupy accidents in the house. We bought a rug shampooer from BJ's. We brought Toby home wrapped in a blanket with his little head sticking out, looking very much like Opal in the bottom photo.
If Howard and Billie are willing and able to hold the reward money, and offer up a space on the Batavian for a reward fund. I'll start the ball rolling with a fifty dollar donation.