May 15, 2019 - 5:34pm
Holland Land Co. deed signed by Joseph Ellicott now on display at museum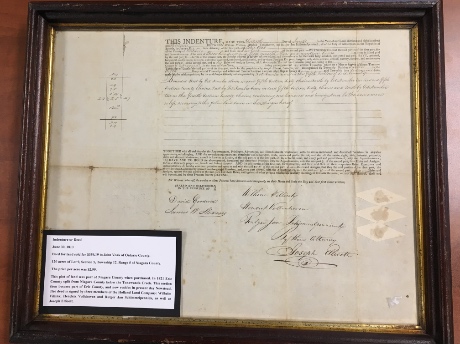 Press release:
The Holland Land Office Museum is proud to announce our newest acquisition of a land deed for the Holland Land Company dated June 30, 1813 acquired at auction at Bontrager Real Estate & Auction Service.
The deed is signed by members of the Holland Land Company and Joseph Ellicott. It represents a well-preserved example of the documentation that was created to expedite the early settlement of Western New York.
The land listed on the document is a lot within present day Newstead in Erie County. The purchaser, a John Voak, bought 120 acres of land for $359.19, an average of $2.99 per acre.
Though the land is in Erie County today, the deed lists the area to be in Niagara County, as the sale occurred before Niagara County was split in 1821.
The deed is currently on display at the museum (131 W. Main St., Batavia) in our Land Office Room exhibit, with other items connected to the Holland Land Company.