September 2, 2015 - 2:30pm
Le Roy Central School District gets $10,000 grant from farmers' fund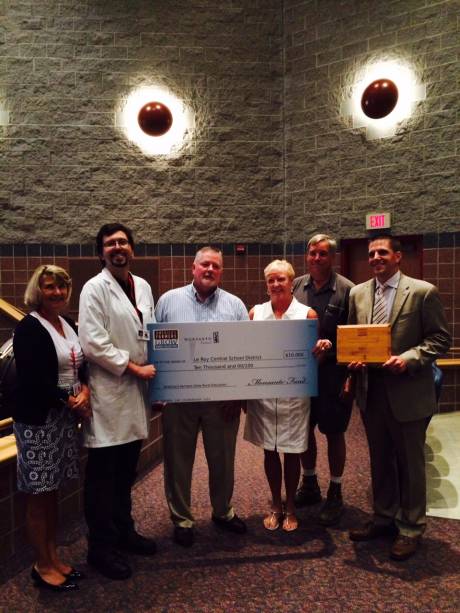 Submitted photo. From left: Kim Cox (superintendent). Michael Chiulli (science teacher), Jeff Cunningham (Monsanto rep), Jackie Whiting (school board member), Tim McArdle (principal).
Press release:
Le Roy Central School District has received a $10,000 grant from America's Farmers Grow Rural Education, sponsored by the Monsanto Fund. The district will use the money to purchase new lab equipment and instructional materials, allowing teachers to incorporate advanced, hands-on experiments in upper-level science classes for high school students.
Through this enhanced science curriculum, the district will introduce students to higher-level lab activities and spur their interest in biotechnology and other science, technology, engineering and mathematics (STEM) careers.
"The projects will expose students to technology they wouldn't otherwise have access to," said biology teacher Michael Chiulli. "This experience makes them more competitive for colleges and careers, and will hopefully encourage them to stay in the region as the biotechnology sector continues to expand in western New York."
Farmers who nominated the school district and representatives from the school and the Monsanto Fund attended a check presentation to celebrate the grant during the back-to-school assembly on Sept. 1.
This year the school district also received an educational starter kit from Monsanto Company to help establish a pollinator garden, which will give students firsthand knowledge of the critical role habitat plays in providing bees and butterflies with food, shelter and places to lay eggs.
Since 2011, Grow Rural Education has awarded more than $9 million to help keep rural public school districts growing. The program works with farmers to nominate public school districts to compete for math and science grants of $10,000 or $25,000. Grant applications are reviewed and finalists selected by a panel of teachers. Winning applications are chosen by an advisory council comprised of farmers from across the United States.
Visit www.GrowRuralEducation.com to see the full list of winners for this year. A sister program, America's Farmers Grow Communities, is currently enrolling farmers for 2016. To sign up, visit www.GrowCommunities.com before Nov. 30.
These programs are part of the America's Farmers initiative. The America's Farmers campaign and programs have advocated on behalf of farmers and their efforts to meet society's needs through agriculture. Today, consumers are more interested than ever in agriculture and how food is grown. Farmers and others in the industry are joining in on the conversation to help raise awareness about agriculture and share their stories with their communities.
Learn more at cfiengage.org
September 4, 2015 - 6:54am
#1
Tim McArdel is the bomb , the best admin in this County . Leroy is so lucky to have someone like him .