August 4, 2011 - 7:31pm
Motorcyclist now on foot, being pursued by the law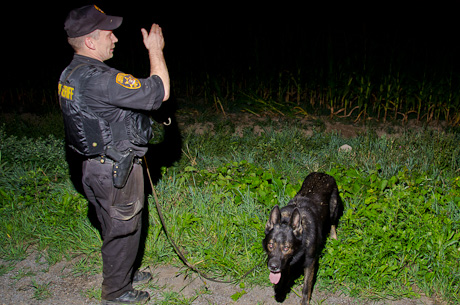 A man on a motorcycle is now the subject of a foot pursuit in a cornfield near routes 63 and 20 in Pavilion. The incident began in the City of Batavia. We didn't hear how things started, only that he's being hunted by Sheriff's deputies.
While he was gunning his motorcycle with the law in hot pursuit, the chain on his bike broke. He ditched it, along with his helmet, and ran into a nearby cornfield. They spotted him by a hedgerow and then he disappeared into the field again.
State Troopers are on scene, too, and they are asked to provide a helicopter to locate the suspect. Pharoah, the Sheriff's Office dog, is working the scene as well. The dog hasn't located the guy yet, but did return to his handler, Deputy Brian Thompson, from the west.
The man being sought is wearing jeans and has on a black leather jacket. The motorcycle doesn't have plates.
UPDATE 7:42 p.m.: A "whole family of deer" is hanging out in one area of the search, so they are thinking he hasn't gone in that direction. The helicopter is flying above.
UPDATE 8:10 p.m.: The helicopter is continuing a sweep of the farm fields west-to-northwest.
UPDATE 8:21 p.m.: The "family of deer has been spooked from its location" and so officers on the ground are asked to scour that area. The motorcycle is being towed "to a secure location."
UPDATE 8:27: The motorcycle is a 1990 GST Suzuki with an expired registered out of Belmont. The manhunt has yielded no results. The helicopter is returning to base.
UPDATE 10:14 p.m. (by Howard): Photo, Deputy Thompson and Pharoah. Deputies and troopers cleared the scene about about 9:30 p.m. with the suspect still at large. The chase started when Deputy Joseph Graff performed a traffic stop on a motorcyle that didn't have plates. After Deputy Graff exited his vehicle to approach the motorcyclist, the rider took off at high speed.
August 6, 2011 - 10:44am
#15
Any progress catching this guy? Why did the police think it was justified to jeopardize innocent lives with a high speed chase? They spotted a bike with no plates and the driver refused to comply with a traffic stop. He wasn't wanted for murder or for a gunpoint robbery so why the pursuit at high speeds through intersections and through the city? Seems a bit unwarranted to me as this is how innocent lives are taken. Example: Kelly Hansen on August 4, 2011 - 7:43pm "My son and I were driving west on Main near the Ross and Swan intersection and the motorcyclist blasted through a red light with two sheriff's vehicles in close pursuit. Thankfully the two cars in front of us didn't go when the light turned green or it would have been disastrous." The chase should've ended there. Catching a dumba** on an unregistered motorcycle isn't worth a life. The radio can't be outrun so they should simply notify other officers to BOLO. Quote: Bob Rathenburgh on August 5, 2011 - 9:37am "Well you know there is ALOT (a lot) more to this guy than just some uninspected - unregistered bike for him to take off like that." How do you know that to be true? Don't you ever watch COPS on Fox? Too many times at the end of a long, high speed chase an officer will ask the suspect "Son, why'd you run?" The suspect 9 times out of 10 will say "I don't have a license and didn't want to go to jail." Now he's in a lot more trouble but did the unlicensed driver need to be chased risking other lives? IMO, no.